"Drone birds" to inspect bridges and railroads in Europe
A major EU-project led by SDU will develop an automatic drone system to monitor bridges, railroads, and other critical infrastructure over the next three years. The drones will fly in swarms, photograph and analyze the constructions, harvest energy from power cables, and notify if repairs are needed.
There are more than one million bridges in Europe and over 200,000 kilometers of railway tracks. When they need to be inspected for faults and wear, helicopters and manually controlled drone operations are used as the standard inspection procedure. That is expensive and inefficient, and many errors are not detected in time. In the worst case, it can result in catastrophes like the 2018 collapse of the Ponte Morandi bridge in Genoa, Italy, where 43 people lost their lives.
Now, a large EU-project led by SDU will develop a system of autonomous, self-charging, and collaborative drones that can inspect a big portion of the transportation infrastructures in a continuous operation, so that cracks and faults don't go unnoticed.
The comprehensive project named Drones4Safety has revived a grant of 26 million DKK through the EU's Horizon 2020 program and it will run from June 2020-2023.
Drones flying in formation
The application has been underway for nearly a year and a half. Along the way, more than 60 applicants have been sorted out, so there were big smiles at SDU's Drone Center when the EU confirmation landed. Now, the researchers are ready to jump-start the project.
The consortium
The consortium is led by SDU's Drone Center, and consists of nine partners: The University of Southern Denmark, Aarhus University, Fraunhofer (Germany), EUCentre (Italy), Delair (France), NEAT SL (Italy), Automotive & Rail Innovation, Center (Germany), Deep Blue SRL (Italy) and Eurocontrol ECTL.
The consortium is led by associate professor Emad Samuel Malki Ebeid from SDU's Drone Center, which is a part of the Maersk Moller Mc-Kinney Institute.
– We have conducted a preliminary analysis which shows that 70 percent of Europe's bridges are within a three kilometers radius of power cables or rail cables. The idea is to develop an autonomous system of
swarm drones, that can harvest energy from the cables and monitor infrastructure through artificial intelligence and computer vision, he says.
– The same drone system will recharge from the electrified railways while inspecting the rails.
Comparable to a flock of birds
Drones are estimated to reduce inspection costs by more than 15 billion euro every year. The system will also be more efficient than manual inspection since drones can work around the clock and sneak into otherwise impassable places.
Five main objectives
There are five main objectives in the Drones4Safety-project:
To develop a solution for energy harvesting.
To increase inspection efficiency by developing AI algorithms.
To provide a platform for collaborative drone operations.
To develop a failsafe inspection drone.
To build a cloud-based AI system for autonomous navigation.
– You can compare it to a flock of birds, Emad Samuel Malki Ebeid says with a smile.
– If we can get our 'drone birds' to eat from the power cables, they will have the energy to fly out and monitor the terrain. We will equip them with a camera, so they can see how things stand, and through artificial intelligence we will teach them to recognize faults and cracks. Our drone birds will fly in flocks and cooperate by using geo-tracking, and then they are to notify us if something needs to be repaired.
In addition to the Drone Center, IMADA from SDU will also contribute to the project. Besides, the consortium consists of 8 partners. Among these is the University of Aarhus, the German research institute Fraunhofer, French Delair, and Eurocontrol, which handles flight security in Europe.
Help save human lives
Emad Samuel Malki Ebeid predicts that the weight of the drones, the development of the algorithm, the way they are to fly in formation, and the extraction of energy from the cables will be the biggest challenges in the project.
– If this succeeds, and we expect it to do so, we will have a very strong platform that can ensure safe infrastructure in Europe and potentially help save human lives.
– The project supports the UN's Sustainable Development Goals on infrastructure and sustainable cities and the support from the EU show that the research at SDU is moving in the right direction. I look forward to working with both industrial and academic partners in the consortium for the benefit of all of Europe, concludes Emad Samuel Malki Ebeid.
About Drones4Safety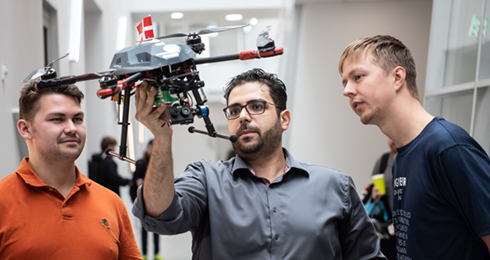 Drones4Safety is a major European research project under the Horizon2020-program. With a grant of 26 million DKK, researchers will develop an autonomous drone system that can monitor infrastructures such as bridges and railroads. The project originates partly from the Drones4Energy-project, and it will run from 2020-2023.
Meet the researcher
Emad Samuel Malki Ebeid holds a Ph.D. from the University of Verona in Italy and is now an associate professor at the SDU Drone Center under the Maersk Mc-Kinney Moller Institute. He is interested in intelligent system design and is the project manager of the Drones4Safety-project.