Obama visited SDU
As expected, Barack Obama's visit to the university on the last Friday of September was very well attended.
By Kent Kristensen, kk@sdu.dk
Photo: Michael Drost-Hansen
Already half an hour before Barack Obama was due on stage, his former ambassador to Denmark, Rufus Gifford, took a relaxed walk around SDU in Kolding.
Along the way, he greeted a group of students and discussed the political situation in the United States before exclaiming:
"Wow, this is a beautiful university. I think it's going to be a really great day and I'm looking forward to hearing Obama speak."
Relaxed Obama
So too were the remaining 725 guests. Among these were H.R.H. Princess Marie, several ministers, various politicians, business people and students.
Spontaneously, they reacted with a standing ovation when the 44th President of the United States entered SDU smiling and waving, dressed in a dark suit with a blue, open-necked shirt.
"Thank you for inviting me. Thank you for the fine weather and oh, how comfortable your furniture is," he began, as he sank down in a chair and prepared for the questions that students from SDU, among others, had posed.
Education and several other subjects
The next hour went by with talk about political subjects, such as the recovery policy during the financial crisis, social policy, the welfare model in Scandinavia, fake news and the political polarisation – both in the USA and Europe.
The former president was also asked which educational fields he would recommend to young people.
"There is no doubt that there will be a need for people with technical competences. I hope that more women will educate themselves within the fields where we need their input, and I say this as a father of two daughters," Obama concluded.
The ability to collaborate
"And those not interested in technology and science should not despair. The educational system must also develop students that are creative and able to collaborate. We will need employees who can be part of a team and find new solutions. Who have empathy and insight," continued the former president.
He added that it was also a question of being aware of areas that cannot be replaced by artificial intelligence, and when asked what he specifically advised his own girls, he replied:
"Well…..That question requires that they listen to their father … But I tell them that they should focus on two values. They should be kind and they should be useful. Furthermore, my advice is that you should not focus on what you want to be but what you like to do."
"

Leadership begins with listening – not talking.
During the talk, Obama also explained his views on leadership and future leaders.
"Leadership begins with listening – not talking. In addition, a leader must be really good at assembling a team of skilled employees and ensuring that they are successful."
"As president I knew that the decisions that reached my desk were the complicated ones, otherwise other people would have acted on them. Therefore, it was important that I could have the issues looked at from all angles. This also requires that the people around you dare to disagree, ensuring you different ideas."
Student with exceptional list
Before Obama left, accompanied by another round of applause, he also revealed that he is writing a book. And to the 27-year-old Sidse Gerdrup, a graduate student at the Center for American Studies, the experience with the former president was the icing on a very special cake.
She was previously an exchange student in Wisconsin, where she participated in a university event with Obama's Vice President Joe Biden during the presidential election in 2012. She has also attended a lecture with the then ambassador Rufus Gifford.
"It is totally surreal that I have also seen Obama now. He was fantastic. Especially his advice on thinking about values such as kindness and usefulness in relation to career choices made an impression. It was also a relief that we should think about what we want instead of what we can become," says Sidse Gerdrup.
Rated as 8th best
As an introduction to the visit, a number of guests had heard a presentation earlier that day, where associate professor Niels Bjerre-Poulsen from the Center for American Studies talked about Barack Obama's time as president.
"His critics describe him as someone who was only good at giving speeches, but in my opinion, that is not correct. He was a significantly better practical politician than most people understand," said Niels Bjerre-Poulsen.
He added that Obama's legacy also seems to be changing. Thus, a panel of political scientists and other experts earlier this year placed Obama in 8th place among the nation's 45 presidents. This appears in the "Presidents & Executive Politics Presidential Greatness Survey".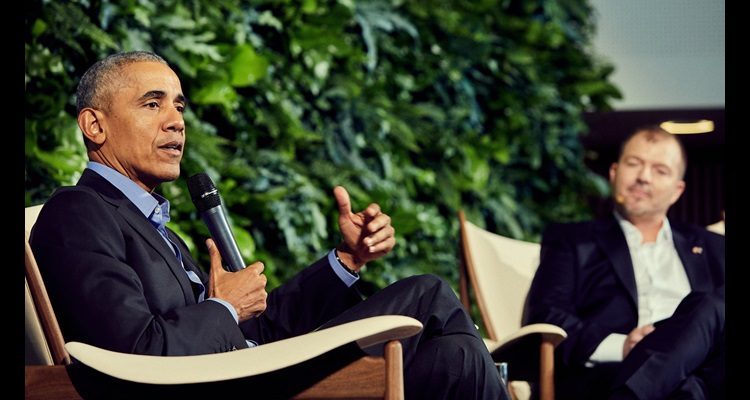 Productive president
Niels Bjerre-Poulsen described the 44th President of the United States as someone who achieved considerably more than people might be aware of, particularly during his first term in office.
The fact that Obama was met by a republican party who in advance had decided not to vote for any of his bills meant that he faced difficult conditions, the SDU researcher emphasised.
Nevertheless, the financial crisis was combatted and the Iraq war ended. Other results included the nuclear agreement with Iran, the climate agreement in Paris and the legalisation of marriages between homosexuals. The health reform was a chapter by itself, and Niels Bjerre-Poulsen has written an anecdote about the process in a coming book.
Just like in Dirty Harry
Obama knew that a health reform would be a historic milestone, but the president was aware that it would require more than ordinary political skill to get the bill adopted, as many were opposed to it.
Therefore, he asked one of his closest advisers if it could actually be done, to which the adviser replied: "There is a possibility. But it's going to be like the movie Dirty Harry, where the inspector played by Clint Eastwood says, "you've got to ask yourself one question: Do I feel lucky?"
The president replied:" My name is Barack Obama, I'm a black man and I'm President of the United States. Of course, I feel lucky."
On Friday, 28 September, 725 participants in the event also felt lucky.
See the picture gallery from Obama's visit to SDU in Kolding
Facts
Barack Obamas visit at SDU in Kolding had the headline: "A conversation with President Barack Obama".
The event was a collaboration between Business Kolding, Kolding Municipality and SDU. Business Kolding was the official host.
Meet the researcher
Niels Bjerre-Poulsen, who gave the presentation on Obama earlier in the day, is an associate professor at Center for American Studies, where researches American politics and history.
Introductory presentation
The students who participated in the Obama visit also heard a presentation by visiting professor Sarah Hentges. The presentation contained both text, slides and videos.