Patient@Home (supported by Danish Agency for Science, Technology and Innovation; 2012-2018) focuses on developing technologies and services that can assist patients in increased self-reliance, self-treatment and self-care in their own homes. The project is coordinated by The Maersk Mc-Kinney Moller Institute. Additional partners to the project include international universities as well as institutions and enterprises within the Danish health sector. The project is a SPIR (Strategic Platform for Innovation and Research) initiative within the field of intelligent social solutions and welfare technology. Patient@home will develop new welfare technology to the benefit of both patients and the public health care sector. Patient@home will in this way support the necessary development in the public health care sector towards more outpatient treatments and hospital-to-home discharges followed by treatment, care, monitoring, and rehabilitation at home.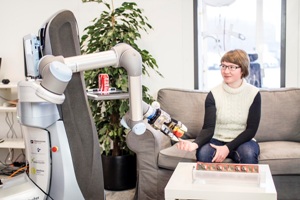 Public-private innovation will ensure relevance and impact of new welfare technology products and services that can help qualify decisions made in relation to the new hospital projects in Denmark. Processes are driven and results are generated in close collaboration between health care professionals, patients, private companies, and research institutions. This cross-fertilization will ensure user acceptance by health care professionals as well as patients.

The technological development in Patient@home will enable increased use of home monitoring, improved rehabilitation and care at home, and will be supported by new research focusing on clinical evidence. Through coordination of parallel and interdisciplinary research and innovation activities, Patient@home will: (1) enable the Danish health care sector to optimize its operations to achieve better treatment at decreased expense; (2) enable patients to experience an increased participation and responsibility for their own healing process resulting in increased quality of life; (3) provide the Danish industry with access to unique knowledge that enables them to build strong international market positions based on innovative and intelligent welfare products and services; (4) strengthen the involved research institutions through increased access to laboratories and real-life test facilities and through novel interdisciplinary and collaborative research; and (5) strengthen the engineering educations at the involved research institutions through active participation of the students in research and innovation activities and through increased knowledge at the research institutions.
Contact:
Assistant Professor Leon Bodenhagen
Project partners:
Please visit the project web site: http://www.patientathome.dk