Let your workout be intelligent and effective
In spring 2020, SDU launched a campaign about sedentary work in collaboration with the research unit Physical Activity and Health in Working life (PAW).
The training programs can be performed with your normal clothes on. The main focus is to prevent and alleviate problems with the neck, shoulders and back.
The extended restrictions and the continued worklife at home make the aim of the campaign important. So, revisit or try it for the first time. You can find the exercises here.
Have a great workout!
Do you want a more active workday? We have three great offers for you!
When you work from home, it can be challenging to implement activity to your workday. In collaboration with SDU Moves, you have the chance to change that. You find three of our ideas right here:
10-to-12: Find the offer here
Every day at 11:50 a.m. you can find a 10 minutes activity on Facebook. The offer is arranged by our partner Dansk Firmaidrætsforbund. Click on the link above and fill your workday with energy.
Morning workout on DR TV: Find the offer here
Get out of the bed, away from the computer and out on the floor. Each morning on workdays you can find workouts on your TV or online at 6:45-7:00 a.m. and again at 9:20-9:35 a.m. Grab the chance to get a great start on your day.
Inspiration for an online workout at home: Find the offer here
DGI have listed their best exercises for you so you can keep being active from home. The whole family can join in, or you can book your colleague for an active break between all online meetings.
Don't forget your colleagues!
Maybe your colleagues could also benefit from a little extra energy in their workday at the home office? As these offers are starting at a fixed time, it is easy to set up an invitation in your calendars, so that you all remember to get some activity into the workday.
Do something nice for yourself and move with SDU Moves.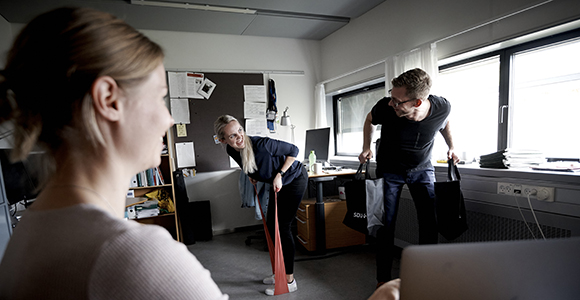 Thank you for your support at the SDU Moves event on October 9th!

The participation of more than 600 colleagues made the event a great success – both online and on every campus.

Check out TV2Fyn's coverage of the event at www.tv2fyn.dk and read the articles at Fyens Stiftstidende www.fyens.dk and SDUnet.dk (intranet).

We look forward to more SDU Moves event in 2021!

If you have ideas for activities, please send your ideas to us at sbs@sdu.dk.

Once again: Thank you for the support!

Menu:


Questions or suggestions?

We would love to hear from you!
Send us an email at sbs@sdu.dk