Today women enjoy a longer life than men in all countries of the world, but women tend to report poorer self-rated health, they have higher disability levels at all ages and perform more poorly on physical tests than men. This so-called male-female health-survival paradox (e.g. why men die while women suffer) with a shorter life expectancy for men than women imposes well-described economic and personal costs on millions of families. Also, the longer lifespan, but poorer health, of women results in a population of older widows who suffer from disabilities.
Despite mounting research regarding sex differences in health and mortality, we still do not fully recognize whether behavioural factors explain most of the gender gap or whether biological and social differences contribute more substantially to the explanation of the sex differences in health and mortality. The epidemographers and biological demographers at CPop collaborate to push the boundaries of our knowledge about the universality of the male-female health-survival paradox and the potential mechanisms underlying it. We are studying sex differences in humans and other organisms to understand the evolutionary and environmental roots of the sex differences in health and survival.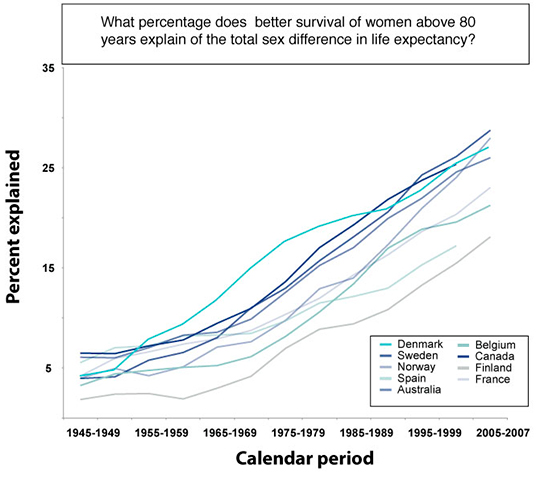 Elderly women benefit the most
The greatest increase in sex differences in human life expectancy during the last decades were seen among women older than 80 years. In the search for clues to explain these sex differences in life expectancy we use data from the unique Danish registries, including the Danish Twin Registry, and we benefit from the setting at the Unit of Epidemiology, Biostatistics and Biodemography, which holds information on the oldest-old cohorts.
Researchers:
Coordinator: Rune Lindahl-Jacobsen
James W Vaupel
Kaare Christensen
Jim Oeppen
Johan Dahlgren
Virginia Zarulli
Jonas Schöley
Silvia Rizzi
Julia A. Barthold
Marie-Pier Bergeron Boucher
Søren Kjærgaard
---
Selected publications
Rise, stagnation, and rise of Danish women's life expectancy.
Lindahl-Jacobsen R, Rau R, Jeune B, Canudas-Romo V, Lenart A, Christensen K, Vaupel JW.
Proc Natl Acad Sci U S A. 2016 Apr;113(15):4015-20. Pubmed abstract
Homicides In Mexico Reversed Life Expectancy Gains For Men And Slowed Them For Women, 2000-10.
Aburto JM, Beltrán-Sánchez H, García-Guerrero VM, Canudas-Romo V.
Health Aff (Millwood). 2016 Jan;35(1):88-95. Pubmed abstract
Sex Differences in Biological Markers of Health in the Study of Stress, Aging and Health in Russia.
Oksuzyan A, Shkolnikova M, Vaupel JW, Christensen K, Shkolnikov VM.
PLoS One. 2015 Jun 29;10(6):e0131691. Pubmed abstract