SDU Bachelor project about 3D printed bones wins Venture Cup
Particle3D from SDU was voted winner of the National Startup Competition by 300 people from industry, students and entrepreneurs when the Venture Cup held this year's major entrepreneur competition for Denmark's university students.
By Sune Holst, suneholst@mci.sdu.dk, 07-07-2017
It sounds like pure science fiction, but it is actually real: researchers from SDU have succeeded in 3D printing artificial bones which grow naturally together with the body's own bones. The researchers were rewarded for their efforts on 22nd June when they took first prize at the major national entrepreneur competition for university students, the Venture Cup. The prize was accompanied by a cheque of 100,000 DKK.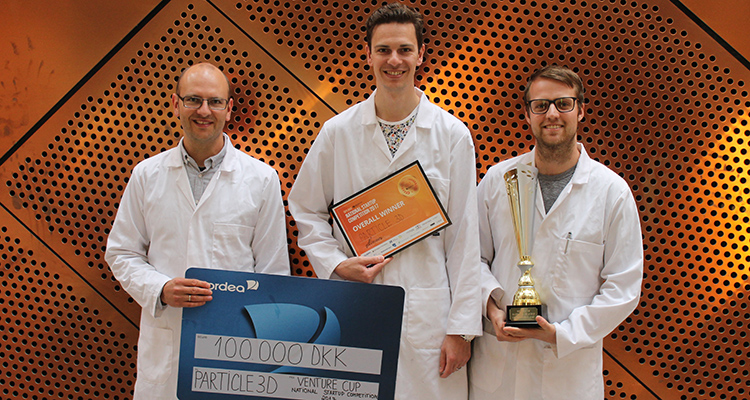 Behind the idea are two welfare technology engineering students, Casper Slots and Martin Bonde Jensen, and Associate Professor Morten Østergaard Andersen from SDU.
Casper Slots explains that the project started out like a little snowflake that landed on a slope and started rolling.
- Our little snowflake originated in the form of a problem from leading jaw surgeon Torben Thygesen from OUH, who often faces the challenge of having to operate on patients after traumas where the currently-used titanium plates are a bad fit or difficult to adapt to the patient.
For patients, it means that for the rest of their lives they have to live with one or more foreign objects made of titanium in their bodies.
Great support from SDU
The problem became a Bachelor project, and from here the snowflake quickly grew into a large, rolling snowball. The Bachelor project was patented, which formed the basis for the startup company Particle3D.
- We were lucky to find a teacher, Morten Østergaard Andersen, who during our Bachelor and master's didn't just function as a supervisor but also as a sparring partner.
Through their collaboration with Morten Østergaard Andersen, Casper Slots and Martin Bonde Jensen had the chance to create their own electives, which enabled them to improve their skills in 3D printing and medical devices.
- It was Morten who submitted a patent application for the idea, and then the whole thing really started gathering speed.
Casper Slots praises SDU's support throughout the whole project. Without support from the University it probably wouldn't have been impossible to complete the project, but it would certainly have been a great deal more difficult.
- The expenses surrounding a patent can be considerable, but luckily SDU was interested in the patent and took those on for us, as well as all the other expenses connected with the patent - expenses that would otherwise have been nearly impossible for two students to cover, says Casper Slots.
In addition, SDU also allocated further funding which made it possible to employ Casper Slots and Martin Bonde Jensen as student employees. That meant that they could focus on exploring, expanding and developing their research.
Victory celebrated with a bag of caramels
One might think that winning the first prize of the Venture Cup and its accompanying cheque would provide an excuse for the popping of champagne corks, but for now the three creative brains have celebrated the victory by sharing a bag of caramels. However, Casper Slots predicts that the triumph will be properly celebrated when the three go to Silicon Valley later this year. Because that is something definitely worth celebrating.
- The money has made it possible to go from a university project to starting a real company, Particle3D, this summer, which will be very exciting.
But Casper Slots emphasises that the Venture Cup victory is about more than just money.
- It has been a massive pat on the back for us to receive this kind of recognition, and as a result it's given us a lot of PR as well as contacts both in Denmark and internationally.
World Cup and a bright future
The team behind Particle3D have just had a meeting with SDU to discuss countries to which it would be relevant to expand. The USA is particularly in the spotlight as the American market in medical devices is among the largest in the world. However, it requires major financial ballast to penetrate a market such as this.
- We have to go through FDA, food and drug administration, which requires funding that is not in place yet.
In addition, the University Startup World Cup is looming on the horizon. This year, the World Cup in Startup for University Students is to be held in Copenhagen, and Casper Slots hopes that the Particle3D team can utilise the home advantage.
- Winning comes with obligations, so now we're hoping to win the University Startup World Cup, says Casper Slots with a smile.
The University Startup World Cup will take place 18th-22nd September. Particle 3D will compete against 50 teams from all over the world.