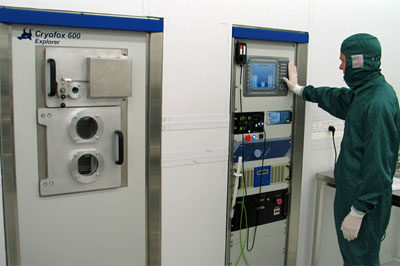 Developing Materials to Desirable Pressure Sensors
NanoSYD heads a new project that focuses on the development of low-temperature stable pressure sensors. The project has received funding from the Danish Advanced Technology Foundation.
If a business owner wants to save energy he can try to optimise his production processes but it requires a precise control of both temperature and pressure in the apparatus and machines. For this, companies need stable pressure sensors that provide reliable measurements at high temperatures – and preferably at an affordable price – which is not available at the market today.
Therefore, NanoSYD at the Mads Clausen Institute has launched an industrial postdoc project in which participants are working to resolve this challenge. The project is done in cooperation with Danfoss Industrial Automation.
Works in cleanroom
A large part of the challenge concerning the project is to create a thin-film material that meets the demands for high-temperature pressure sensors. The technique to be used to deposit the thin-film on the membrane is essentially the same as the one that is used to manufacture microprocessors. Therefore, there is a great need for fabrication and measurement techniques that are available in the cleanroom at NanoSYD.
"The unique facilities available to us in the cleanroom, makes it possible to tailor thin-film materials for a variety of purposes at the same time we have the opportunity to collaborate with companies on these high-tech projects," says Jakob Kjelstrup-Hansen, lecturer at the Mads Clausen Institute.
International potential
The project is scheduled to run for two years and have a budget of 2 million kroner. The criterion for success is to have identified a material system and a production process which subsequently can be commercialised to pressure sensors of high quality and which can operate at high temperatures.
"We see great potential for this type of pressure sensor in the global market, and we have a lot of unique ideas on how to realise them," said Serguei Chiriaev , PhD in Physics and development specialist at Danfoss.
"It is a great project that can both increase our fundamental understanding of these materials while creating a really good product. I am excited to be the link between the industry and the university's high-tech facilities in this project," says Nis Dam Madsen, who has received the fund from the Danish Advanced Technology Foundation on the basis of his PhD project on thin-film, which was developed at iNANO and the Danish Technological Institute in Aarhus.
Image: The thin-film material will be deposited on the membrane using the technique "sputtering" using thin-film deposition equipment, as seen in the picture.
For additional information contact
Associate Professor Jakob Kjelstrup-Hansen, NanoSYD, the Mads Clausen Institute
e-mail: jkh@mci.sdu.dk / phone: 6550 1685