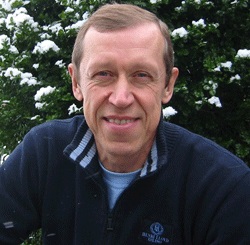 Research group gets support for development of supercomputers
The Nano Optics research group of Professor Sergey I. Bozhevolnyi receives 1,4 mill. dkr for the development of optical technologies for the next generation of supercomputers
Professor Sergey I. Bozhevolnyi who is heading theNano Optics research group at the Institute of Technology and Innovation is - together with leading European researchers and industrial partners - part of a large EU grant called "PhoxTroT".
The aim of PhoxTroT is to create fotonic high-yield, low-energy, cost-efficient and small-size optical connecting technologies between computer units, more specifically for On-Board, Board-to-Board and Rack-to-Rack datalinks.
The background for the project is that the limited performance and physical quantity of electrical connections stand out today as the greatest barriers regarding the coming generations of Data Center (DC) and High-Performance Computing (HPC) environments – which is why the optical technology becomes very interesting.
Future optical technology
In 2008/2009 it was estimated in professional circles that by 2012 a supercomputer with a capacity of 10 Pflops (floating-point operations per second) would take 5 MW of electrical power. But today it turns out that the supercomputer of our day with this capacity would demand no less than 10 MW of electrical power - twice as much as foreseen four years ago.
In order to avoid an explosion in energy consumption it is therefore imperative to develop fotonic low-energy solutions for Board-to-Board and Chip-to-Chip datalinks.
As part of the project, Professor Sergey I. Bozhevolnyi and his Nano Optics group are, over the four coming years, to examine the possibilities for using plasmonic wawe conductors as optical Chip-to-Board links.
Of the total EU-grant of 8,7 mil. Euro, the Nano Optics group at the Institute of Technology and Innovation will receive 190.000 Euro corresponding to 1.425.000 dkr. for their part of the research project.
For more information, please contact
Professor Sergey I. Bozhevolnyi at seib@iti.sdu.dk / Mobile: 2058 5128
Also read about the programme MSc in Engineering - Physics and Technology