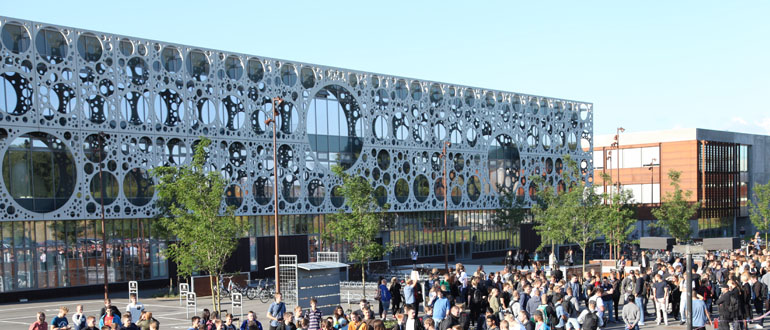 PhD student Krzysztof Zielinski receives an EliteForsk travel grant and will study at MIT
Every year, the Ministry of Education and Research awards five EliteForsk awards and twenty EliteForsk travel grants. Krzysztof Zielinski, who is a business Ph.D. Students receive a travel grant worth DKK 200,000 for a long-term study in one of the world's best research environments.
Can you tell us about your PhD project?
"I am building a better bridge between small and medium-sized enterprises (SMEs) and automation. Many SMEs see the opportunities that automation offers them but are either afraid of the challenges or need help paying for the cost of a solution. A significant part of the cost of automation is not only the robots themselves but also the construction of the production line and the integration of all its factors. This is where my project comes into the picture. My Augmented Reality (AR) extension for the robot must enable the SMEs to set up and integrate the production line themselves and thus make the automation much cheaper for them."
What does an EliteForsk travel grant mean for your future opportunities?
"I have been lucky enough to secure a place at the Media Lab at the world's best technological university, the Massachusetts Institute of Technology (MIT). I am grateful that one of my supervisors, Bruce Blumberg, facilitated this opportunity. My stay at MIT will bring me closer to the centre of technological research and allow me to learn from the best researchers in my field, exchange ideas and share my know-how about AR with them."
In addition to Bruce Blumberg, Krzysztof Zieliński has also had Christian Schlette and Mikkel Baun Kjærgaard as supervisors. The latter is full of praise for Krzysztof Zieliński:
"Krzysztof Zieliński deserves the award because of his technical knowledge in the field where he shows great productivity and independence in his work. Krzysztof is a Business PhD at SDU and does research in close collaboration with Universal Robots. He manages here in an ideal way to link industry and research perspectives in his PhD project with an international outlook," says Mikkel Baun Kjærgaard.
You can read more about Krzysztof Zieliński here
About EliteForsk travel grants
The EliteForsk travel grant is DKK 200,000 and is intended to contribute to very talented PhD students having long-term study stays in the best research environments in the world. Up to 20 EliteForsk travel grants are awarded annually.
Universities and other PhD-awarding institutions can nominate a certain number of candidates for travel grants. The board of Denmark's Free Research Foundation assesses the institutions' nominations, which selects and appoints the PhD students to the Minister of Education and Research.