BSS-Education is tasked with supporting all faculty units and departments.
This includes:
Study Administration
Secretariat of Professional Development and Executive Educations
Educational Communications
Digitalization, Quality and Learning Hub (DQL-Hub)
We see it as our primary function to support our users, so that they can focus on their main tasks. We see it as our job to promote that researchers can research, teachers can teach, students can learn and management can manage.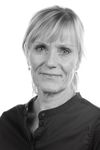 Head of BSS-Education
Annette Schmidt
E-mail: ans@sam.sdu.dk
Phone: (+45) 6550 2036 /(+45) 6011 2036