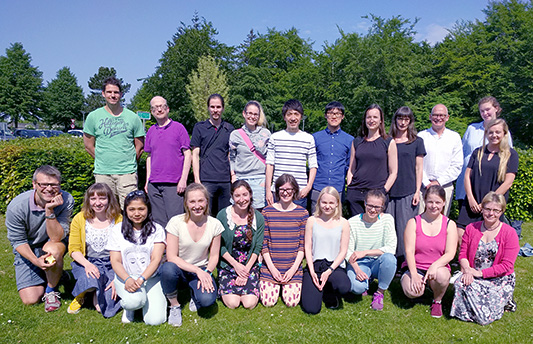 Welcome to the analysis of twin data!
The Institute of Public Health, Department of Epidemiology and Biostatistics presents the course Analysis of Twin Data in Health Research with the aim: This course gives an introduction to the modern analysis in studies of twins.
The students will be able to apply basic methods and biometric models using statistical packages, especially the package "mets" and OpenMx in R. The students learn how to investigate genetic and environmental influences on phenotypes under various twin designs and assumptions. They also learn how twins can be used effectively in studying association controlling for various confounders, the matched design.
Findings and insights from studies with twins will be highlighted. Time is devoted for short presentations by the participants including discussion and feedback.
Special topics this year: Epigenetic studies using twins; Time to events in twins and more in program below.
Contributed talks: This gives the opportunity to give a 15 min informal presentation of your project or ideas with feedback.
Faculties
Epidemiology, University of Helsinki, Finland

Professor Jaakko Kaprio
Associate professor Karri Silventoinen

Medical Epid and Biostat, Karolinska Institutet, Sweden

Assistant professor Juulia Jylhävä

Osaka University,

Center for Twin Research

Visiting researcher Shunsuke Toyoda

Biostat, University of Copenhagen, Denmark
Epid and Biostat, University of Southern Denmark

Professor Kaare Christensen
Associate professor Jonas Mengel-From
Associate professor Ulrich Halekoh
Senior data analyst Axel Skytthe
Professor Jacob Hjelmborg (course leader)
Place and time
Location: Faculty of Health Science, University of Southern Denmark, Winsløwparken. Link to Winsløwparken.
Time: 14.5.-17.5. 2018
Locations:
Monday - Wednesday (time 9-16.30):
Location 25.111, ground floor, J.B. Winsløvs Vej 25, 5000 Odense C.
Link to J.B. Winsløws Vej 25 - location 25.111
NB: Wednesday (time 15.00-16.30):
Location 17.110, first floor, J.B. Winsløvs Vej 17a, 5000 Odense C.
Link to J.B. Winsløws Vej 17a- location 17.110

Thursday (time 9-13.30):
Meeting room, 3rd floor, J.B. Winsløvs Vej 19, 5000 Odense C.
Link to J.B. Winsløws Vej 9 - 'Meeting room'
---
Lectures: 9.15-16.30 (including coffee breaks and lunch)
---
Good luck with the course!
---
Note: Course material will appear from links below prior to course start.
Program:
References and links
Twinning: hall2003.pdf
Twin Studies: boomsma2002.pdf, obesity2007.pdf, RabeHeskethEtAl2008.pdf, van den Berg2012.pdf
Case Cotwin Design: Duffy1998.pdf, Intrapair2001.pdf, Ann Rheum Dis-2011-Svendsen.pdf , Frisell2012.pdf, Sjølander2012.pdf
Quantitative Genetics: posthuma2003.pdf, visscher08.pdf, Cordell_epistasis.pdf, Martin2017.pdf, Robinson2017.pdf
Gene Environment interaction: purcell2002.pdf, jaffee2007.pdf, hunter.pdf
"Methodology for Genetic Studies of Twins and Families" by Michael C. Neale, Lon R. Cardon and Hermine H.M. Maes: http://www.vipbg.vcu.edu/gen619/NMbook05.pdf
Time to event analysis: lida2013.pdf
Nordic Twin Cancer Study
Epigenetics
Software for analysis of twin data
For registration