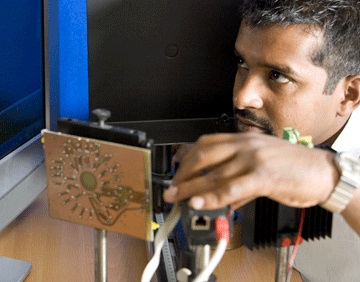 TEK researcher won in Ph.D. cup
This week, Thiusius Rajeeth Savarimuthu from the Maersk Mc-Kinney Moller Institute won at the Ph.D. cup of the Danish daily paper "Information"
In short, robotics researcher Thiusius Rajeeth Savarimuthu is working to make robots able to take blood samples, thus reducing waiting time at hospitals. This work, published in his Ph.D. thesis, is the background for Thuisius Rajeeth Savarimuthu being among the winners in the Ph.D. cup of the Danish daily newspaper "Information".
The cup is not only about the quality of the academic content of the Ph.D. thesis but also about how relevant the research is to society and how it is communicated. In these aspects, Thiusius Ratjeeth Savarimuthu excelled because his work and its significance is readily understandable to ordinary Danes.
Bloodsampling robot
The blood sampling robot is placed in the "Robolab" of the Faculty of Engineering. It is a prototype on which Thiusius Rajeeth Savarimuthu is working. When you put your arm in to the scanners, a web of blue blood vessels will appear on a screen. Thiusius Rajeeth Savarimuthu has been responsible for the algorithms enabling the robot to identify the blood vessels best suited for injection.
As yet, the robot is not ready to take over the work of humans in taking blood samples at the hospitals, although this is the aim of Thiusius Rajeeth Savarimuthu.
The official award ceremony will take place on the 29th of May 2012 at the "Information" in Copenhagen.
For more information contact:
Assistant Professor, Ph.D. Thiusius Rajeeth Savarimuthu, the Maersk Mc-Kinney Moller Institute
Telephone: 6550 7484, mobile: 2872 2663, email: trs@mmmi.sdu.dk
About the Ph.D. cup
The Ph.D. cup is arranged by the daily newspaper "Dagbladet Information" in cooperation with the Danish Universities. In the cup, the contenders compete within the main fields of health, science and technology, humanities and social sciences. Within each field, two winners are selected.