SDU project in Sierra Leone ensures clean water and strengthens teaching at TEK
Today, two engineers from SDU will land in Sierra Leone to help ensure clean drinking water in a project with Engineers Without Borders. They will also gain experience and knowledge that will be used in a large Danish drone project.
After two years of waiting due to Covid-19, today Kjeld Jensen, who is an associate professor at SDU, will finally put his boots on the ground in Sierra Leone.

He is back in the West African country to restart activities in a project with Engineers Without Borders (EWB), which aims to ensure access to clean water in the poor African country.

- We talk a lot about sustainability and the UN's 17 world goals, which we work with at SDU. Clean drinking water is an essential prerequisite for achieving those goals. For example, it can be difficult for a schoolchild to follow the lessons if she has diarrhoea because the child has to drink dirty surface water, says Kjeld Jensen, who is eager to return to Africa after almost two years.

- I'm very excited about what awaits us. We have vaccinated ourselves now and we have taken the necessary precautions, he emphasizes.

Technology talks about crashes
He is a volunteer in Engineers Without Borders, who runs the project that started three years ago. The ambition is to ensure a more stable water supply by monitoring the thousands of water wells and water towers in Sierra Leone.

The alternative for the locals is surface water, which is contaminated with everything from coliform bacteria, faecal bacteria to soap and oil.

They do so by installing solar-powered microcomputers, that gives daily satellite notifications of water consumption, and will tell if the installation is faulty.

In Sierra Leone, a survey of 32,000 water wells and towers showed that a third were defective.

- The water towers break down frequently, and it may take up to a year before they are repaired because no one is aware of it. By using the IoT (Internet Of Things, ed.), we can monitor the installation, says Kjeld Jensen, PhD and associate professor at the Maersk McKinney Moller Institute and SDU's drone centre.

Local ownership
Kjeld Jensen has been involved in developing the technology for the project. Ultimately, the goal is to ensure clean water, but also local ownership and the data needed to maintain the technology that can ensure clean water for the locals.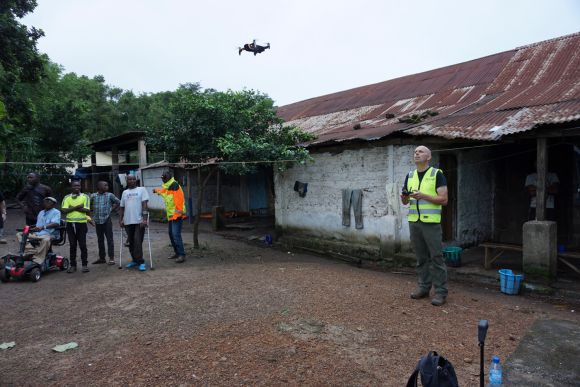 -Sometimes, organizations from abroad will come in and build, for instance, water towers but then they disappear again. While that kind of technology can certainly help, it is absolutely crucial that the locals take ownership as well, he says.

That is why the software for the systems was also written in open source programs and the choice of material is, for example, wood instead of metal, because that is what they have access to locally, he says.

-There are others in the world who work with similar technologies, but we stand out because we don't have a commercial aim, says Kjeld Jensen.

Students in Odense must learn from the experience
It's not the first time Kjeld Jensen works in Sierra Leone on the project, nor is it the first time he has travelled with Engineers Without Borders.

However, it's the very first trip for Kjeld's fellow traveller and SDU colleague Christian Hammerich, associate professor at the Department of Mechanics and Electronics. Christian has joined the journey to gain experience with product development, innovation, and sustainability which he will later put to use when he is back in Odense to teach at TEK.

- I hope to get inspiration for new project descriptions and teaching materials. The students at SDU TEK are used to work with profit in mind, but here value creation is about other things. I look forward to sharing my experience from Sierra Leone with my students back home, he says.

Lasting innovation
Sustainability is a key part of 17 UN goals. Sierra Leone has a completely different economic and social setup than Denmark, and those differences are important to incorporate in the education, he says.

- We want to work for the benefit of the local community. If it doesn't work locally, it's not really innovation, he says.

The knowledge achieved from the project in Sierra Leone will also benefit other projects back in Denmark. For instance, the Healthdrone project led by Kjeld Jensen, where drones will fly equipment and blood samples between Svendborg and Ærø.

- Being in Sierra Leone expands my technical knowledge. The technology we have developed here is very reliable and can be applied to the Healthdrone-project back in Denmark, says Kjeld Jensen.

While in Sierra Leone, Kjeld Jensen and Christian Hammerich will work both in the capital of Freetown and in several surrounding villages.