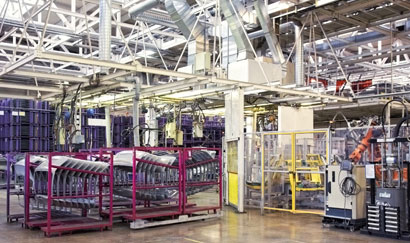 Recent research in robotics will safeguard jobs
Researchers from The Maersk Mc-Kinney Moller Institute have been granted 18.3 million Danish kroner from the Danish Council for Strategic Research to find new methods to expand the use of robots and thus to strengthen industrial competitiveness.
If Danish industry increases its focus on productivity enhancing robots, the gains could be substantial. Today around 5,500 robots are used in Danish industry – a considerable increase compared to only 350 robots 25 years ago. Experience has shown that the increased use of robots and other new technology heightens productivity and, as a result, employment.

Long start-up period
Uncertainties and difficulties in connection with the implementation of robot-based automation in industrial manufacturing is a considerable bottleneck.

'Work processes must be changed from being operated by people to being operated by robots. The type of robot must be decided on, and the right tools and robotics systems must be programmed. Although the implementation process is carried out by experts who are very experienced in automation, it will often cause difficulties', says Professor Henrik Gordon Petersen, head of the new research project called CARMEN.

Because it may take several adjustments, and thus a long time, before the system runs to your satisfaction, industrial robots are primarily used for the manufacturing of products in large series where the length of the start-up-phase is of less importance.

Flexible industrial robots for smaller batch productions
The manufacturing of products in small batches are today primarily manual and often made in low-salary countries. That is a serious problem for a country like Denmark, because it means that production, knowledge and jobs are leaving the country.
The researchers involved in CARMEN will study new and advanced methods to, using the most recent IT research, complete all phases of the start-up-phase in a robot automation virtually.

'This project is important for Denmark, because it can contribute to safeguarding jobs. More robotics in industry will enable us to keep production and knowledge within the country. However, for that to happen we need scientific breakthroughs – and that is what we attempt with this project', says Gordon Petersen.

New knowledge for many industries
The research in CARMEN will make it easier to automise new processes through the development and use of realistic simulations and through more systematised recording and use of existing knowledge from related automation processes.
Moreover, the group will examine how to build highly flexible automation cells based on modular principles, and a number of these will be implemented.

'The potential is great for a range of industrial sectors in Denmark, where management and assembling is a significant part of the production. Therefore, this is an investment in new knowledge which we believe could have a substantial spread effect and potential for a lot of different industries', he says.
For further information, please contact
Professor Henrik Gordon Petersen
The Maersk Mc-Kinney Moller Institute
Mobile: +45 6011 2324, email: hgp@mmmi.sdu.dk

Grant recipient
Center for Advanced Robotic Manufacturing Engineering (CARMEN)

Grant from the Danish Council for Strategic Research
Approx 18.3 million kroner (total budget of approx. 26.2 million kroner)

Research programme
Activities include:
- 5 PhD scholarships
- 3 post doc programmes of a total of 5¼ years

Other participants in the research project:
• The Maersk McKinney Møller Institute, University of Southern Denmark
• Department of Business and Economics, University of Southern Denmark
• Department of Mechanical and Manufacturing Engineering, Aalborg University
• Georg-August Universität, Göttingen, Germany
• Danish Technological Institute, Robot Technology
• KVM-Conheat A/S
• VOLA A/S
• Brunata A/S
• SCAN A/S