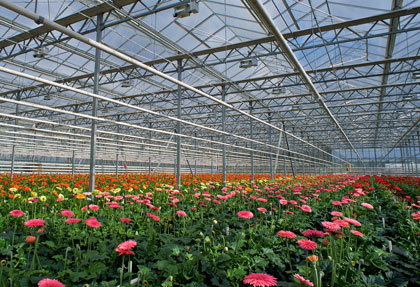 17 mio. DKK for development of intelligent energy systems for market gardening
Scientists from the Faculty of Engineering are heading a new project which is to make market gardening more energy efficient, to the benefit of both environment and economy.
The energy policy goal of a future electric grid based on sustainable energy sources like wind power and sunlight confronts market gardening with great economic challenges - which the project "Smart Grid Ready - Energy cost-effective regulation of articficial light in market gardening" is to remedy.
"We wish to develop a regulation of artificial light optimizing plant growth in relation to energy consumption, and integrating market gardens with the electric grid. Thus market gardens can both save money and help create a good balance between comsumption and production in the electric grid of the future", says associate professor Bo Nørregaard Jørgensen who is heading the project.
The project - which has an overall budget of 17 mio. DKK. - has recently received economic support from "Grønt Udviklings- og Demonstrationsprogram" (GUDP - Green development and demonstration program) and "Energiteknologisk Udviklings- og Demonstrationsprogram" (EUDP - Energy technological development and demonstration program).
Challenged by fluctuating electricity prices
Among other things, market gardens have to deal with the fact that the price of electricity varies greatly, depending on the level of production from sustainable energy sources. This affects the cost of the artificial light which is necessary for the growth of the plants.
"It is the aim of the project to develop and implement an intelligent regulation of artificiel light that will reduce the energy costs. Thus we can make sure that market gardening in Denmark stays competitive, so that we may conserve thousands of jobs as well as the related export trade", says Bo Nørregaard Jensen.
Price-elastic regulation
Apart from optimizing plant growth in relation to energy consumption, the market gardens will also be integrated with the electric grid through the DONG Energy Power Hub concept, so that the market gardens vil be able to dynamically adjust their production according to fluctuations in the price of electricity.
"A price-elastic regulation of artificial light will effectively reduce the energy costs of market gardens and at the same time reduce their environmental impact, but it demands innovation and implementation of the energy optimized methods. And here, the project is a fantastic lever", says Bo Nørregaard Jørgensen.
For more information contact
Bo Nørregaard Jørgensen, associate professor at Mærsk Mc-Kinney Møller Instituttet, tlf. 6550 3545 / e-mail bnj@mmmi.sdu.dk
About the project
The project gathers the existing Danish research expertise within artificial light, climate control and LED-technology. The idea of the project, which is new on a worldwide scale, is based on the specifically Danish research expertise on physiologically based, dynamic climate control.
Funding: Overall budget of 17.517.548 DKK, GUDP supports with 10.174.333 DKK, and EUDP with 3.123.735 DKK, and the rest is provided by the project partners themselves (auto-financing).
Project partners: Århus Universitet (University of Aarhus), Københavns Universitet (University of Copenhagen), DTU Fotonik (Fotonics Department of the Danish Technical University), Dong Energy, Philips, Green Tech Solutions, ConWx, Knud Jepsen, Rosa Danica, SOGO Team og Syddansk Universitet (Mærsk Mc-Kinney Møller Instituttet).