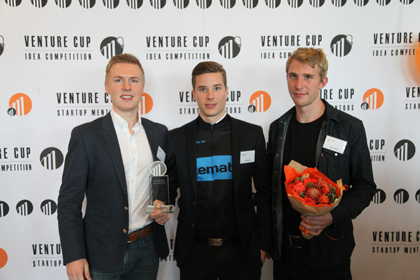 Engineering students become entrepreneurial pilots
The team behind Bikematch are to receive funding to work full-time on their entrepreneur project over the coming year.
On Friday 19 June, Bikematch won the Venture Cup Startup Competition 2015 in the category "Mobile & Web" as well as a cheque for 25,000DKK. Now InnovationsFonden is contributing with an economic helping hand for the three entrepreneurs so that in the coming year they can concentrate their efforts on realising their idea's potential.

Bikematch is an online portal that assembles the Danish bicycle retail market on one website making it easier for the consumer to find the right bicycle. At the same time, the website functions as a display window for local bicycle retailers. A team of engineering students from the University of Southern Denmark is behind the project.
Full-time entrepreneurs
As entrepreneurial pilots, each member of the team behind Bikematch will receive a monthly stipend of 14,473DKK for 12 months, a special grant of 35,000DKK, a personal mentor, workshop courses on relevant subjects and access to office and meeting facilities.

The three entrepreneurs are Brian Jakobsen, Rasmus Melbye and Lasse Melbye.
Entrepreneurial pilot
InnovationsFonden's Entrepreneurial Pilot scheme aims to develop new growth companies built on good business ideas. It is also a cultural influences project which in the long term will contribute to more young people from higher education institutions starting up their own company.

For more information contact
Journalist Martin Mogensen at mbom@tek.sdu.dk / tel. 6550 7297