Campus Odense is an ambitious area for growth and development within robot technology, health and welfare innovation, and New OUH/SDU will have a pivotal role in this. Thanks to the uniting of these two large, significant workplaces, the existing many areas of collaboration will be increased and expanded through the close geography.
The link between research, test environments and clinics is particularly interesting for translational research, where new knowledge quickly benefits patients and citizens, but also for entrepreneurs and companies that want to create new health and welfare innovation.
There is therefore great potential in the close connection that exists between hospitals, research, education and research-based companies on Campus Odense. With the University of Southern Denmark, Forskerparken and UCL University College within reach, companies based at Campus Odense have unique opportunities to develop ideas and business concepts with researchers and students.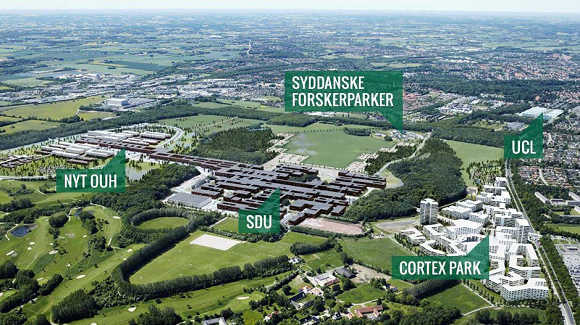 To the north of Campus Odense is Cortex Park with dormitories, homes, shopping facilities, entrepreneurship environment and industry. To the west is Forskerparken – and a little further west we find UCL, which also has facilities in New OUH/SDU and at Vidensbyen.