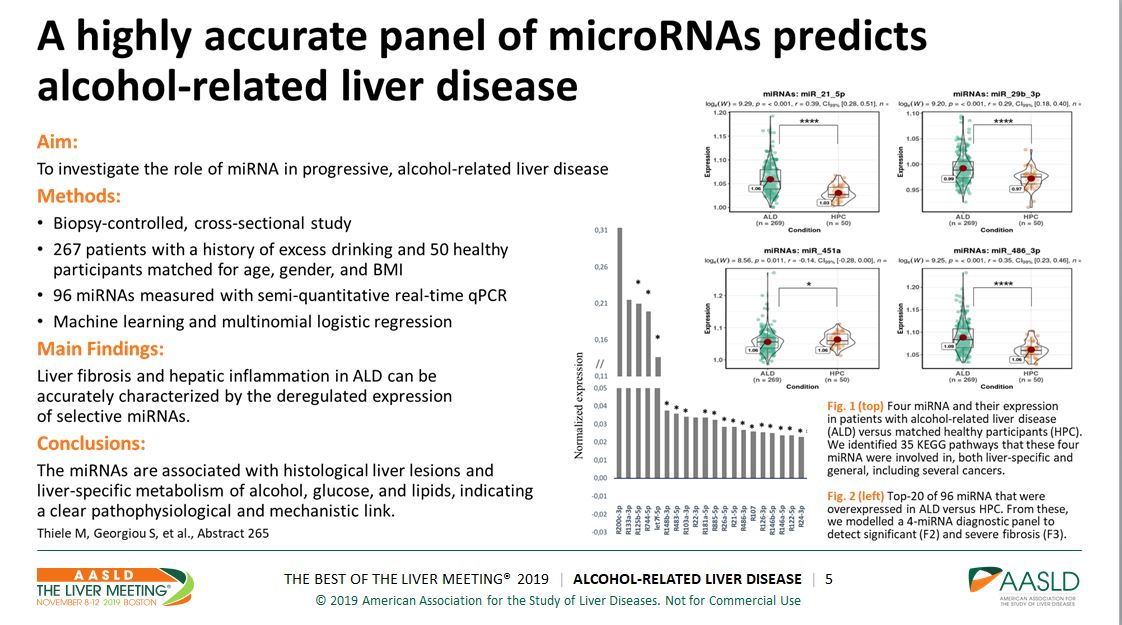 Best of the Liver Meeting 2019
GALAXY had two oral presentations at the Liver Meeting 2019 - one was selected as part of Best of Liver Meeting 2019
At the Liver Meeting 2019 two GALAXY abstracts were selected for oral presentations.
Dr. Morten Karsdal from Nordic Bioscience presented new data on collagen dynamics : 'Is the total amount as important as localization and type of collagen in liver fibrosis due to steatohepatitis?'
Dr. Maja Thiele from Odense University Hospital presented data showing how the majority of 54 miRNA's are upregulated in Alcohol-related liver disease comparted to healthy controls. The results are based on data from 267 participants with a history of excess drinking (part of the GALAXY clinical trial GALA-ALD) and 5o healthy participants matched for age, BMI and gender (part of the GALAXY clinical trial GALA-HP).
Dr. Maja Thiele's presentation 'A highly accurate panel of miRNAs predicts alcohol-related liver disease' was selected as part of Best of Liver Meeting 2019.