In this project we investigate how transcriptional networks in the insulin-producing β-cells and glucagon-producing α-cells of the endocrine pancreas drive adaptation of these cells to nutritional overload, obesity and insulin resistance. Several lines of evidence indicate that prolonged nutrient overload not only stimulate insulin secretion, but also reprograms the genome of pancreatic β-cells.
Initially this helps the β-cells to adapt to the increased demand for insulin by promoting β-cell capacity and proliferation, but this may also drive β-cell dedifferentiation and failure, eventually resulting in type 2 diabetes. Much less is known about how α-cells adapt to nutritional overload, obesity and insulin resistance; however, increasing evidence indicates that dysregulation of α-cell function contributes to development of hyperglycemia in type 2 diabetes mellitus (T2D).
We use advanced mouse models and islet model systems to identify the transcriptional networks involved in the adaptive response in both β-cells and α-cells. We are also investigating the specific role and mechanisms of key candidate transcription factors in this response.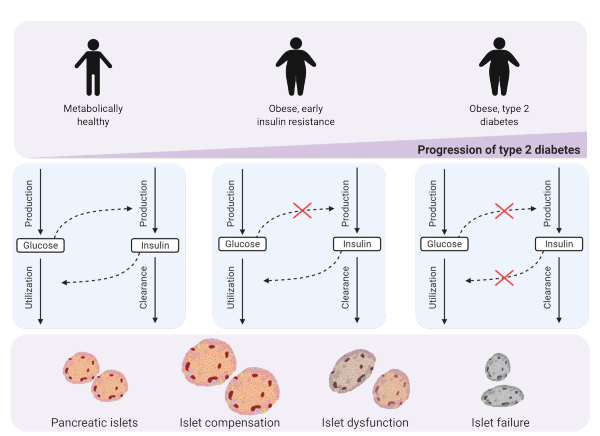 This project is supported by a grant from The Novo Nordisk Foundation.
People involved
Lasse Lehtonen

Postdoc

Isabell Victoria Strandby Ernst

PhD student

Freja Louise Nielsen

PhD student

Magnus Stenderup Bjerre

Project student
Relevant publications
J.G.S. Madsen*, A. Rauch*, E.L. Van Hauwaert, S.F. Schmidt, M. Winnefeld, S. Mandrup (2018) Integrated analysis of motif activity and gene expression changes of transcription factors. Genome Res. 28, 243-255.
S.F. Schmidt*, J.G.S. Madsen*, K. Østerli, L.L.C. Poulsen, Sofia Salö, M. Børgesen, A. Loft, R. Nielsen, J.J.Holst, Louise T. Dalgaard, S. Mandrup (2016) Integrative genomics outlines a biphasic glucose response and a ChREBP-RORgamma axis regulating proliferation in β-cells. Cell Reports 16, 2359-2372.