Being located at SDU, SECDEF has access to a unique set of highly specialised laboratories and test and innovation facilities, which your company or institution can gain access to. Here you can explore some of these further, namely SDU's eScience Center, SDU's UAS Test Center, and SDU I4.0 Lab.
SDU eScience Center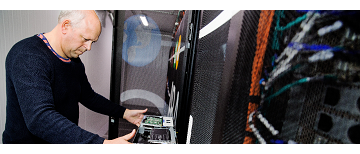 Through our team of expert developers, we offer access to state-of-the-art supercomputing and on-premises cloud facilities that can be used for modelling, simulation, analysis, and staff training. We collaborate with researchers, industry, and business across the whole span from basic research to high technology innovation.
Our services include:
- Supercomputing-as-a-service: Turnkey solutions to run secure data analysis, simulations, or AI models on the latest technology available on the market.
- Co-development of HPC, HPDA and AI solutions: We co-develop a full solution to run data analysis, simulations, or AI models with your team. Solutions are based on modern methods and technology and can be run on-premises or in the cloud.
- Data acquisition, management, and integration: We co-develop a full solution to collect, store and organise valuable business data with your team. Solutions are based on modern methods and technology and can be run on-premises or in the cloud.
- Access to EU funding for HPC, Data Analytics and AI: We help your company search for the relevant funding opportunities and to prepare an application for EU funding for solutions making use of supercomputing, data analytics and AI.
Please contact the eScience Center for more information.
SDU UAS Test Center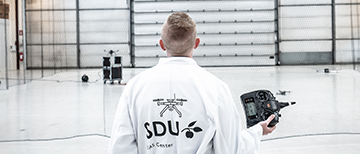 The SDU UAS Test Center is an ecosystem for developing and testing drones and drone-related system platforms. The Test Center is located a 2200m2 airport hangar at HCA Airport near Odense and offers various services to companies, researchers, partners, and engineering students to work in the state-of-the-art laboratories and test areas to create coherent and safe drone systems.
Our services include:
- Laboratories and staff support to help bring your project to life.
- Composite laboratory: a 300 m2 lab divided in three sections; chemical lab, clean lab, and composite workshop. Here we develop composite technologies, natural fiber composite drones and offer excellent education.
- Motion Capture System: The OptiTrack Motion Capture System at SDU UAS Test Center can track hundreds of markers with millimeter precisions in a 665 m3 volume.
- System Integration Laboratory: The systems integration lab is a multidisciplinary research and workshop environment that focuses on integrating and testing the many different parts and subsystems that comprise a modern drone system.
- 1900 km2 drone airspace: Our location at HCA Airport gives you the opportunity to walk directly from the laboratories to the test field on airside. Here you can fly at low risk in the 1900 km2 airspace over land and sea, which is specifically dedicated to drones.
- BVLOS and SORA Applications: From the test field right outside the laboratories you can fly Beyond Visual Line of Sight over Northern Funen and we have experts that can help you with the flight planning and the international rules and regulations.
We can also guide you on your SORA (Specific Operations Risk Assessment) application or you can attend one of our 3-days SORA workshops, where you can learn how to file your own SORA application for BVLOF flights in Denmark.
Please contact the SDU UAS Test Center for more information.
SDU I4.0 Lab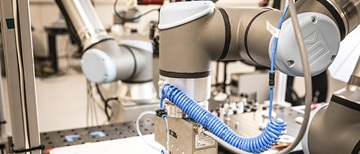 The purpose of SDU's I4.0 lab is to support cutting edge research, innovation and education in the technologies underpinning Industry 4.0.
Our researchers continuously establish new interdisciplinary collaborations with other faculties, universities and the industry and the lab gives students the opportunity to get hand-on experience and follow their curiosity while exploring their creativity.
The lab currently offers competences within:
- Advanced robotics and automation solutions
- Digital modeling consisting of digital twins modeling (process, line, and plant level)
- Virtual reality and augmented reality
- Big data collection and analysis to develop predictive maintenance tools
- Mobile devices and location detection
- Cyber security
Please contact the I4.0 Lab for more information.