The Centre for AI Science and Applications is a platform supporting smooth, transparent and systematic matchmaking, collaboration and knowledge and technology transfer between the researchers at the Department of Mathematics and Computer Science working in AI related fields and interested partners both from within and outside SDU.
In close dialogue with the research support unit at the Faculty of Science, the legal department at the university and the computational infrastructure at the SDU eScience Center, we promote professionalized research collaborations and on demand requests between the centre and researchers across SDU as well as the local and national business community.
In doing so, we help SDU and the Region of Southern Denmark in unlocking the potential of AI in its multitude of applications for the benefit of both science and society.
Partners and networks
Organizational structure
Below you can see how the Centre for AI Science and Applications is organized: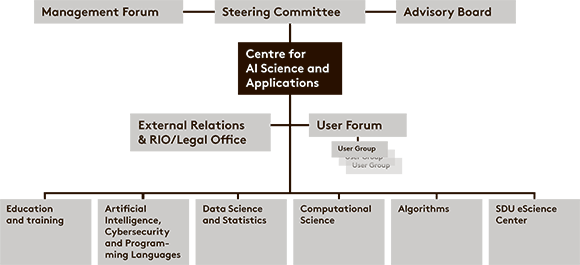 Click on image to see larger zoom of image (PNG).