The collection is valuable
The Brain Collection holds unique material of significant scientific value.
Using modern stereological methods, it is possible to determine size and cell number of selected brain regions. Such quantitative analyzes are necessary to bridge the gap between clinical studies (e.g. using non-invasive brain imaging) and experimental studies on animals and tissue cultures.
It is possible to study certain types of mutations in the tissue. This is relevant for both disease understanding and family diagnostics and councelling.
Danish as well as international contacts have shown an interest in the collection. Through collaboration we hope to maximise the scientific utilisation of the collection.
---
The Brain collection is unique due to its
size

: 9479 brains

continuity over time:

The brains were collected from 1945 to 1982

diagnostic variety:

The brains were collected from people diagnosed with a variety of brain diseases, most frequently dementia, schizophrenia, mania and/or depression
---
Well-documented
All 9479 examined brains were serially numbered and recorded in protocol books (1).The collection has carbon copies (2) of the detailed neuropathological responses sent from the Institute of Brain Pathology.
It will probably be possible to obtain approx. half of the original hospital patient records (3) from various archives.

---
Well-preserved - routine histological staining
Routine histological staining is unproblematic despite many years of storage in fixative at room temperature. These images show tissue processed in 2005 after 25 years (1) and 53 years (2 and 3), respectively, in formalin.

---
Well-preserved - specific diagnostic staining
Specific diagnostic stains are possible in sections from the paraffin blocks.
From left: Bielschowsky stain, immunohistochemical stains for Amyloid β, and Tau protein.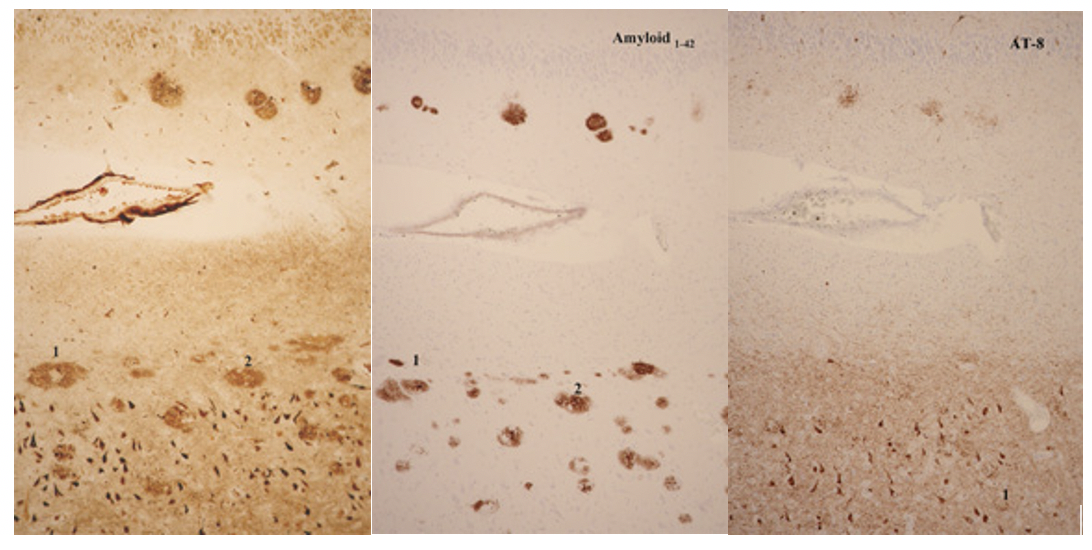 ---