Business School Days strengthens relationships
Two weeks of business activities and social events provided new inspiration and brought students, lecturers and companies closer together.
How can students collaborate with companies during their studies? And how can the business economics programmes become even better?
There was ample opportunity to discuss this – and much more – when Business School Days opened its doors for the first time at SDU – an event to which all students attending the SDU Business School were invited.
The programme offered both academic and social activities at SDU's campuses in Odense, Slagelse, Esbjerg, Kolding and Sønderborg.
Below, three participants share what they took away from the Business School Days:
Line Troelsgaard Olsen, Consultant at SDU Business School and responsible for coordinating the Business School Days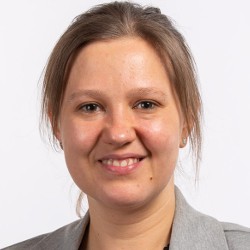 - At all five campuses, the students built their ideas and wishes for the Business School in Lego, which yielded lots of great input.
- In particular, they highlight values such as sustainability, entrepreneurship, teamwork, diversity and equality. This goes to show that our students focus on more than just climbing the career ladder as fast as they can. They have a broad perspective and are passionate about working on something that allows them to make a difference.
- The students also attach great importance to collaboration with businesses, which is one of the cornerstones of the SDU Business School. Finally, we want to create more opportunities to strengthen the interaction between students and businesses. At the end of the day, it provides the students with the best toolbox for a future career.
Mads Aabo is studying for an MSc in Economics and Business Administration – International Business and Management. He is also Deputy Chairman of the student association for business economics programmes (BEA) at SDU
- I made a lot of contacts and have talked to a host of new people. It's been great – both to get to know several of my fellow students and to get a closer relationship with the people in charge of the programmes.
- This means that we can more easily discuss what already works well and what can work even better in our programmes.
Simon Jebsen, Associate Professor at the Department of Entrepreneurship and Innovation Management and BSc programme leader at SDU Sønderborg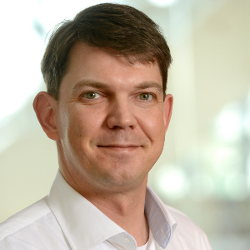 - I had fruitful conversations with a number of students during the Business School Days and talked to a student who was very interested in financing. She called for the teaching to be linked more to practice in the subject. I have passed this message on to the lecturer of the subject, who has agreed to include it in the teaching next semester.
- Every conversation like this is a success, because it allows us to form a closer relationship with our students and at the same time get a good understanding of their thoughts and views on the programmes. For me, it's a direct effect of the Business School Days.
A new tradition has been created
Following this year's success, the plan is for the Business School Days to be held again next year with even more activities targeted at the students at the Business School.
- Our goal is for the Business School Days to become an integrated part of the programmes at SDU Business School. And to make the event a tradition, says Line Troelsgaard Olsen.
Learn more about Business Schools Days and the case competition, which rounded off the event, in this video:

Business School Days
Business School Days offered more than 30 different activities, including company visits, case competitions, career fairs and social events. The students were also encouraged to provide input on how SDU Business School can develop in the future.