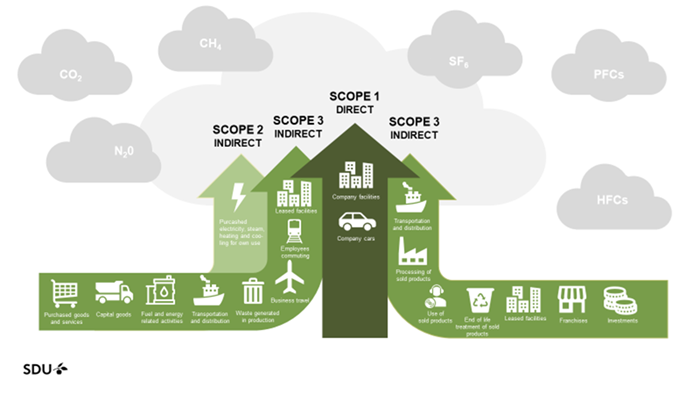 By: Mai Poulsen and Flemming Rasmussen, September 1st
A climate account shows the emission of greenhouse gases over a limited period of time and is an important tool in the work towards reducing greenhouse gas emissions. SDU is still at an early stage in relation to the development and use of climate accounts, which is why we have asked the University of Copenhagen for their experiences, as they have been working with climate accounts for more than 10 years.
- With the climate agenda and the challenges our researchers stress we are facing, it is crucial that one works with measuring and monitoring the development of one's climate footprint. This also allows us to prioritise exactly those places where we need to take action to make the biggest difference, says Tomas Refslund Poulsen, Climate & Sustainability Lead at the University of Copenhagen.
Greenhouse gas emissions are calculated in CO2 equivalents. In 2018, SDU emitted a total of 11,373 tonnes of CO2 equivalents. In 2021, emissions had dropped to 6,092 tonnes. Before rejoicing too much over this significant drop, it is important to keep in mind that both 2020 and 2021 were marked by lockdowns and restrictions due to COVID-19. In particular, the restrictions in relation to air travel have contributed strongly to the lower emissions in both 2020 and 2021. The same picture holds true at other Danish universities.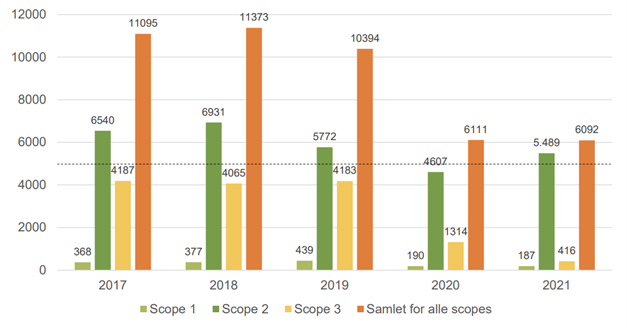 Understanding the accounts
It is worth noting that we have not yet mapped all the emissions at SDU. Emissions from organisations are calculated in overall sources and based on the GHG protocol.
The first source, called scope 1, is the direct discharge from the company. The second source (scope 2) is the emissions from the energy (such as district heating and electricity) that the company buys and uses. At SDU, we have mapped the total emissions from both scopes.
"

There are much greater uncertainties and complexity when calculating scope 3 emissions.
The last and third source, scope 3, is the emissions from the goods and services that the company buys and uses in its production. For a university, it is about how we use and maintain the buildings, laboratories etc.; work-related trips, our purchase of everything from computers to coffee etc. From other universities, we know that scope 3 accounts for up to 85% of a university's emissions.
- The uncertainties and complexity are far greater when calculating scope 3 emissions. Nevertheless, the bulk of the climate footprint lies in scope 3. This can be seen not only at KU, but also in other large organisations. Scope 3 emissions are a main reason why Denmark has such a large climate footprint per capita, even though we are good at transitioning our energy supply to renewable energy, says Tomas Reflund Poulsen.
The hunt for emissions
At SDU, we have so far calculated emissions from work-related trips (taxi, train and plane) under scope 3. If we compare ourselves to other Danish universities that have mapped a larger part of their emissions in scope 3, we can expect SDU's total emissions to be four to five times greater than the current figure.
SDU is therefore working together with the other Danish universities to develop joint approaches and accounting methods for climate accounts for the universities. As part of this work, we expect that the accounts for 2022, which will be available in the spring of next year, will include figures for a bigger part of scope 3.
Read more: SDU's climate accounts for the 2017-2021 period and emissions calculated for scopes 1, 2, and 3.