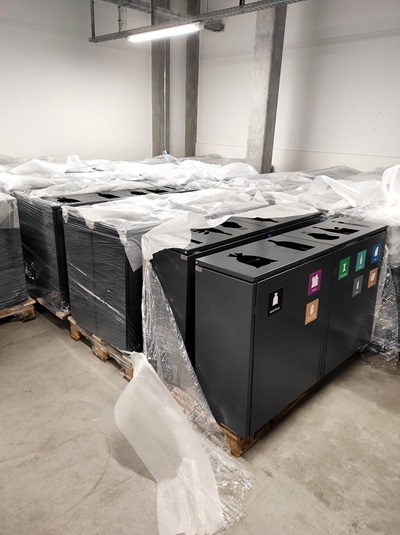 By: Frederikke Malling Hansen
At the end of January, the new waste sorting system was rolled out on the Odense campus – a place to which staff and students flock daily from near and far.
The sorting scheme is based on the sorting scheme of Odense Municipality. Likewise, the sorting schemes at the remaining SDU campuses will be based on the schemes in their respective municipalities. Exactly when then sorting schemes will reach the remaining campuses remains to be seen, however, but the project is well underway.
Read more: Det nye år skal bringe mere sorteret affald (only Danish version available)
'We've chosen to go with the same scheme as the municipality where each campus is located because we hope it'll be the most familiar system to the most people. And that's also where the waste will be disposed of, so we won't have to drive very far with it,' explains project manager at Technical Services Malene Skovbakke.
Jan Jeppesen, an officer at Technical Services, also explains:
'We can't just roll out the Odense solution in Kolding. Or rather, we could, but then we'd have to get a truck from Marius Pedersen in Odense to drive to Kolding and pick it up, but that just doesn't make sense.'
Malene Skovbakke explains that the bins will look similar, but the contents will be different from campus to campus due to the differences in municipalities. It will make things a little more difficult, but at present it is unavoidable.
'Those are the conditions. Ideally, it would be nice if all the municipalities used the same system. You place very high demands on your users when you don't have a "one size fits all" solution, but that's how it is, and it's not up to us to decide which scheme the municipalities are running.'
Different people with different approaches
But it also means that the thousands of students and staff at the Odense campus come to SDU from different backgrounds. Recognisability will be used in an attempt to accommodate these differences.
'We've decided to have the national pictograms everywhere so that people can recognise them,' Malene Skovbakke further explains, and Jan Jeppesen adds:
'We can't meet everyone's demands because people come from far and wide. We have associate professors who come from Copenhagen or Aarhus, and we have students from the US and China.'
He further explains that the communication will be in both Danish and English, but they will also try to use a very visual approach to make it more transparent how users should sort their waste.
What they have both had to realise, however, is that while there have already been years of work prior to the roll-out, it is not over yet.
'It's been a long process and a lot of work, but the real work is just beginning,' says Jan Jeppesen.
Malene Skovbakke says that they will constantly become wiser, as it is still difficult to know how good users will be at sorting waste, how much waste is in the different fractions, and where things will go wrong.
However, they both hope that users will make an effort to sort their waste properly and embrace the sustainable transition.
More info: Come behind the scenes: Sorting waste is not new at SDU