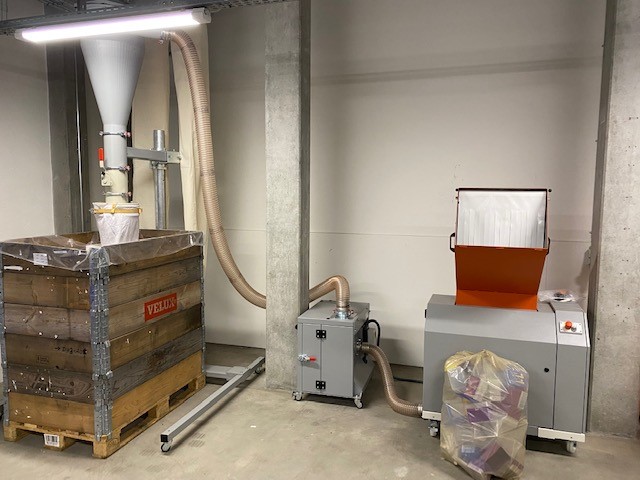 The Green Lab project, which is about the certification of a number of laboratories at SDU that wish to include more sustainability in their daily workflows, has concentrated on two focus areas since its inception.
One of the focus areas has been energy, with a wish to explore how to save on idle load in the labs at SDU. In addition, another focus has been on how the large amount of pure plastic from the labs can be recycled in the best way. This has now resulted in SDU's purchase of a plastic granulator.
The two departments involved in the Green Lab project from the start – the Department of Molecular Medicine and the Department of Biochemistry and Molecular Biology – found that they generated a great deal of polypropylene (PP plastic). One of the research sections found that they had nearly 50 kilos of hard plastic in one month, 83% of which was PP plastic, which is recyclable.
More info: SDU Green Labs sends a sustainable signal to the outside world and gives users a better self-understanding
Marius Pedersen was paid to collect the pure plastic, which the company could then sell on. But then a new thought arose.
'When we only gathered the plastic, Marius Pedersen picked it up to drive it back to themselves and then afterwards out to those who had bought the plastic. If we keep the plastic here instead, we can cut out that transport and transport it directly to the buyer,' says Marianne Due.
In this way, the thought and idea came about for the purchase of a plastic granulator, which will now run as a pilot project for one year.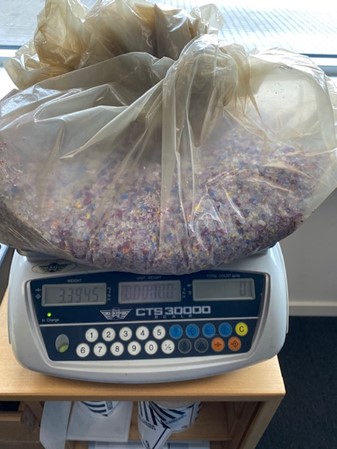 Across together
However, for the project to be realised, interdisciplinary collaboration between departments at SDU was necessary.
'The project became a collaboration between Procurement and Tendering, Technical Services, our energy consultant and the users. So it was a cross-cutting project,' explains Marianne Due.
Technical Services had a major role in the plastic granulator project with their knowledge and experience in the waste area, as well as the installation and operation of the granulator.
In addition, Procurement and Tendering assisted the project by exploring the possibilities of a granulator and by making sure that SDU's agreements were honoured.
'When we think about tendering, we need to think about what kind of plastic we want to have in-house and what can be reused from what we purchase,' explains Charlotte Wiking Antivakis, purchasing coordinator at Procurement and Tendering, about their role in purchasing the plastic granulator.
Among other things, they considered whether SDU should recycle the pure plastic from the labs into plastic chairs for the University, but the recycling rate turned out to be lower than other options.
'It wasn't the greatest story to come up with. We'd rather recycle it all,' says Charlotte Wiking Antivakis.
After this, they spotted the potential in a plastic granulator, which can be widely used at SDU.
More info: Current climate initiatives
The project is thus the result of a broad collaboration across different departments at SDU. According to Marianne Due and Charlotte Wiking Antivakis, interdisciplinary collaboration is alpha and omega when you want to make holistic solutions and make them succeed.
'You can only do it through a collaboration, and also it needs to be spread out so that all of SDU can use it,' says Charlotte Wiking Antivakis, adding:
'It's incredibly important that if SDU projects are going to get through, and they are going to succeed, then they have to have a broad scope.'