The GHG Protocol arose out of the need to help countries, companies and public institutions account for, report and reduce greenhouse gases. Today, it is a globally used and recognised method that is also used by other universities in Denmark and around the world.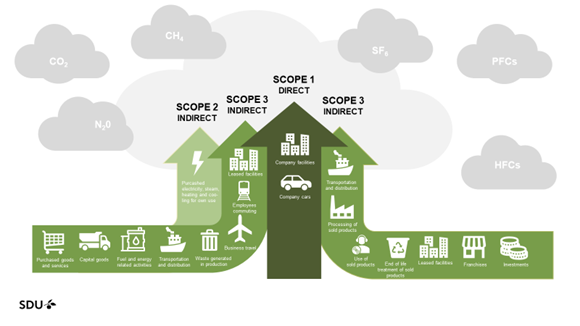 The GHG protocol uses three scopes. The goal of a 57% reduction in 2030 compared to 2018 applies to the emissions that we are positive we can calculate and quantify, and they include those that fall under scope 1 and 2 as well as parts of scope 3 in the GHG protocol.
Scope 1 is the direct emission from SDU's land registers from e.g. own heat production, emission of greenhouse gases from own laboratories, driving in SDU's service vehicles and employees driving their own cars during working hours (i.e. not commuting to and from work).
Scope 2 is the indirect emission caused by electricity and heat purchased and consumed by SDU. Scopes 1 and 2 are included in full.
Scope 3 is emissions related to SDU's procurement, use and disposal of goods and services (value chain). Scope 3 currently includes work-related air travel, rail travel and taxi trips. As the University gains better insight into the carbon footprint from various sources in scope 3, there may be a need to also define goals and efforts for other areas in scope 3.
SDU participates in a cross-sectoral collaboration with the other Danish universities with a focus on developing a common framework for carbon footprint reports for universities.