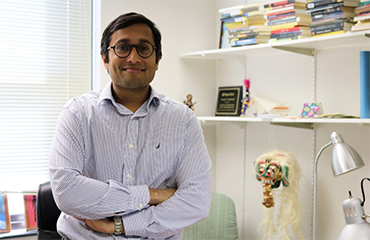 Online lecture by Prof. Vinodh Venkatesh (Virginia Tech)
Madness at the Margins: Literature and Justice in Latin America stands as a counterpoint to Kimberly Nance's award-winning Can Literature Promote Justice? Trauma Narrative and Social Action in Latin American Testimonio (2006) by asking the question: can literature question justice? Covering a wide variety of award-winning and rising authors from Central America, Peru, and Chile, and working with ideas by such theorists as Jean Franco, Ileana Rodríguez, Edward Weisband, and Eugenio Di Stefano, I analyze how these novels pose a challenge to liberal and Western notions of justice in post-conflict societies. The project focuses specifically on events of genocide, indigenous rights, terrorism, and memory work in the respective contexts through a practice of close reading that also engages theories and postulates from a wide variety of disciplines including political science, anthropology, and critical theory. The project examines—through a decolonial lens—how these authors and their fictions query and deconstruct prevailing notions of justice, while suggesting alternative juridical, civil, and ethical possibilities, especially for the victims of these acts of cruelty. In this presentation, I will focus specifically on the field of contemporary Central American literature and its reception vis-à-vis processes of truth-telling and reconciliation in Guatemala.

Bio
Vinodh Venkatesh (Ph.D. UNC Chapel Hill) is Professor of Spanish at Virginia Tech, and is an Affiliate Faculty in the program of Women's and Gender Studies and the Alliance for Social, Political, Ethical, and Cultural Thought (ASPECT). He is the author of three books: Capitán Latinoamérica: Superheroes in Cinema, Television, and Web Series (SUNY P, 2020), New Maricón Cinema: Outing Latin American Film (U of Texas P, 2016), and The Body as Capital: Masculinities in Contemporary Latin American Fiction (U of Arizona P, 2015). He has also co-edited with María del Carmen Caña Jiménez Horacio Castellanos Moya: El diablo en el espejo (Albatros, 2016), and a special issue of the Arizona Journal of Hispanic Cultural Studies titled "Affect, Bodies, and Circulations in Contemporary Latin American Cinema" (2016). His current research is on the relationship between literature and justice in post-conflict Latin America.

For enquiries please contact Executive Officer Pernille Hasselsteen:
perha@sdu.dk