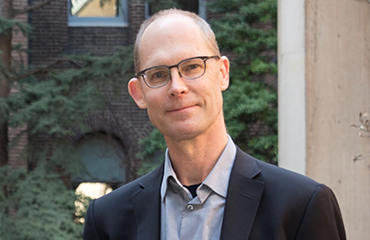 On-line Lecture Series: "Forms of Reading" - lecture by John Welsh Centennial Prof. of English James English (University of Pennsylvania)
In Search of Eclectic Readers: Mining Goodreads
For scholars interested in studying literary readerships and patterns of fiction consumption, web scraping is an increasingly common approach. The Goodreads social collection site in particular makes an enticing target for automated gathering of data about literary reception. The site contains a vast quantity of information about readers' habits, preferences, and ways of describing their readerly experiences. English will talk about some of the work that's been done on Goodreads by other scholars as well as by his own team at the Price Lab. His remarks will be organized around three basic questions. First is the question of representativeness. Unlike the usual procedures in literary studies (anecdote; projection), scraping Goodreads yields information about large numbers of real, non-academic readers. But is this data at all representative of "readers in general"? And if not, what can we hope to learn from it? The second question is sociological, arising out of work that began in the 1990s: has there been a shifting of cultural values such that readers are encouraged to adopt open and tolerant habits of reading, replacing the ideal of narrowly "good taste" with that of eclecticism, and establishing creative curation as the basis of a healthy relationship to books? Can data from Goodreads bring clarity to this venerable question of cultural sociology? The third question links the other two by asking whether digital platforms such as Goodreads, besides being rich sources of data about readers and reading, might themselves, through their ever more comprehensive algorithmic mediations, be affecting this entire scheme of values, preferences, and readerly well-being.
Bio - John Welsh Centennial Prof. of English James English (University of Pennsylvania)
English is John Welsh Centennial Professor of English at the University of Pennsylvania and founding Faculty Director of the Price Lab for Digital Humanities. His main fields of research are the sociology and economics of culture; the history of literary studies as a discipline; and contemporary British fiction, film, and television. His books include Comic Transactions: Literature, Humor, and the Politics of Community in Twentieth-Century Britain (Cornell 1994), The Economy of Prestige: Prizes, Awards, and the Circulation of Cultural Value (Harvard 2005), and The Global Future of English Studies (Blackwell, 2012). He is editor or co-editor of Scale & Value: New and Digital Approaches to Literary History, a special issue of MLQ (2016); New Sociologies of Literature, a special issue of NLH (2010); The Concise Companion to Contemporary British Fiction (2005), a collection of essays about the scene and system of literary production in the UK; and for five years (1999-2004), of Postmodern Culture, the first peer-reviewed all-electronic journal in the humanities. He is currently studying the history of systems of ranking and quantitative evaluation in literature and the arts.
Registration (no later than Oct 18, 2020 - Danish time)

For enquiries please contact Executive Officer Coordinator Pernille Hasselsteen: perha@sdu.dk