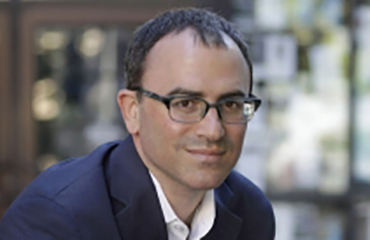 Online lecture by Prof. Daniel Schwartz (The George Washington University)
"The 'Return to the Ghetto' Debate in the Yiddish Press in the Late 1930s."
In 1938, less than two years before East European Jews would be herded into physical ghettos by the Nazis, a debate broke out in the international Yiddish press over whether Jews, of their own accord, should return to the "ghetto." With fascism and right-wing nationalism ascendant throughout Europe and with antisemitism raging, some Jewish intellectuals began to question if Jewish survival required renouncing the hopes and aspirations of the project of Jewish modernity and reverting to the separatism of premodern Jewish civilization. This paper will provide an overview of this debate that galvanized Yiddish writers in the late 1930s on the eve of World War II. It will explain how the word "ghetto" came to be a signifier of pre-emancipated Jewish culture in 19th and 20th-century Jewish literature and historiography, the various positions staked out in the "return to the ghetto" debate, and the echoes of this debate today amid the resurgence of right-wing populist antisemitism and left-wing anti-Zionism.

Bio
Daniel B. Schwartz is a professor and the chair of history at George Washington University. He is an expert in modern Jewish intellectual and cultural history. He holds a bachelor's degree from Princeton University (1997) and a PhD from Columbia University (2007). His first book, The First Modern Jew: Spinoza and the History of an Image (Princeton, 2012), was a co-winner of the American Academy for Jewish Research's Salo W. Baron Prize for the best first book in Jewish studies and was a National Jewish Book Award finalist in the category of history. His most recent books include Spinoza's Challenge to Jewish Thought: Writings on His Life, Philosophy, and Liberty (Brandeis, 2019) and Ghetto: The History of a Word (Harvard, 2019). He is currently working on a history of the Lower East Side.
For enquiries please contact Executive Officer Pernille Hasselsteen:
perha@sdu.dk