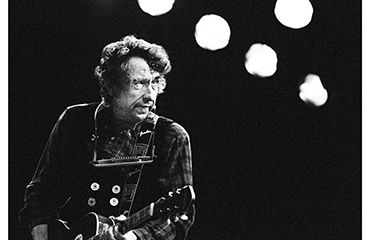 Conference
New Approaches to Bob Dylan
4-5 October 2018 in Odense
Arranged by the Niels Bohr Professorship "Uses of Literature. The Social Dimensions of Literature"
INTERVIEWS FROM THE CONFERENCE (PRODUCED BY DK4):
Dr. Michael Gray (France)
Dr. Nina Goss (Adjunct Prof., Fordham University)
Dr. Sean Latham (Prof. and Director, University of Tulsa Institute for Bob Dylan Studies)

Bob Dylan's songs are the subject of countless interpretations and discussions. His work is one of the fastest-growing research areas in the humanities, and interest has increased dramatically since Dylan's receipt of the Nobel Prize in Literature in 2016.
The "Uses of Literature. The Social Dimensions of Literature" research project invites you to the international Bob Dylan conference "New Approaches to Bob Dylan" where there will be opportunity to discuss Dylan's songs and consider new approaches to the study of his work.
Professor Anne-Marie Mai (University of Southern Denmark), one of the strongest advocates of Bob Dylan's Nobel Prize, has organized the conference, which will feature presentations by the world-renowned Dr. Michael Gray, who has studied Dylan's opus for more than 40 years, Professor Sean Latham, director of the newly opened Dylan archive at the University of Tulsa, and Professor Gisle Selnes, University of Bergen, one of Dylan's most insightful commentators. Dr. Horace Engdahl of the Swedish Academy will make a video presentation on the circumstances of Dylan's Nobel Prize. And SDU's Niels Bohr Professor Rita Felski will discuss with Anne-Marie Mai what it means to be attuned to a work of art, with both Joni Mitchell and Bob Dylan beingused as examples.
Conference participants will also be able to view a video address by renowned Shakespeare scholar Professor Stephen Greenblatt, who will discuss connections between the art of Dylan and Shakespeare.
Guitarist Billy Cross, who was a member of Bob Dylan's band from the end of 1977 to the spring of 1979, will give a short performance.
Other lecturers:
Dr. David Gaines, Professor, Southwestern University
Dr. Nina Goss, Adjunct Professor, Fordham University
Dr. Rachela Permenter, Professor, Slippery Rock University
Dr. Andreas Häger, Senior Lecturer, Åbo Akademi University
Dr. Mark Hulsether, Professor, University of Tennessee/Fulbright Research Chair in Arts and Humanities, University of Alberta (spring 2018)
Dr. Ludovic Foster, UK
Dr. Flemming Andersen, Professor Emeritus, SDU
Dr. Jonathan Hodgers, Lecturer, Trinity College Dublin
Dr. John Hay, Assistant Professor, University of Nevada
Dr. Jim O'Brien, Senior Lecturer, Southampton Solent University/Visiting Professor, University of Vic
Dr. Neal Ashley Conrad Thing, Copenhagen
Dr. Freddy C. Dominguez, Assistant Professor, University of Arkansas
Dr. Robert Reginio, Associate Professor, Alfred University
Fee: Price: DKK 875 (incl. VAT). The fee includes: the lectures, coffee/tea, Billy Cross' performance and a glass of wine.
Participation by enrolment only. Please register your interest in attending the conference no later than Sept. 13, 2018 by using the link: http://webpay.sdu.dk/system/bobdylan
For enquiries please contact Project Coordinator Pernille Hasselsteen: perha@sdu.dk
Conference Schedule
4 October 2018
9.15 AM
Welcome
9.30-10.00 AM
Horace Engdahl video presentation
10.00 AM-10.45 AM
Keynote: Michael Gray: Bob Dylan's Affective Symphony
10.45 AM-11.00 AM
Coffee break
11.00 AM-11.45 AM
David Gaines: Dylan's Literary "Fans," The Economy of Prestige, and Reading With One Hand Waving Free
11.45 AM-12.30 PM
Nina Goss: Like Pendulums Swinging on Chains: Bob Dylan's Precarious Modernity
12.30 PM-1.30 PM
Lunch break (lunch by invitation only)
1.30 PM-2.15 PM
Rachela Permenter: Not the Jester, but the Trickster: Bob Dylan's Shocks of Force
2.15 PM-3.15 PM
Panel - Dylan and the Religion:
Andreas Häger: Dylan as liturgy – Using Bob Dylan's songs in church
Mark Hulsether: Four Levels of Religious Meaning in Bob Dylan's Music and Why It Matters to Hear Them All
3.15 PM-4.00 PM
Ludovic Foster: Beyond the Horizon – Observing the Queerness within Bob Dylan's Gesture
4.00 PM.4.45 PM
Keynote: Gisle Selnes: "Post Nobel": Dylan & the Poetics of Attachment
4.45 PM-5.30 PM
A glass of wine before Billy Cross' performance
5.30 PM-6.30 PM
Performance by Billy Cross

5. October 2018
9.00 AM-9.30 AM
Stephen Greenblatt video presentation: Connections between the art of Dylan and Shakespeare

9.30 AM-10.15 AM
Flemming Andersen: Though this be plagiarism - yet there's method in it. A second opinion on intertextuality in Dylan's songs
10.15 AM-10.30 AM
Coffee break
10.30 AM-11.15 AM
Sean Latham: Bob Dylan: Folk Singer or Teen Dream?
11.15 AM-12.00
Jonathan Hodgers: Recording Dylan
12.00-1.00 PM
Lunch break (lunch by invitation only)
1.00 PM-1.45 PM
John Hay: Theme Time Out of Mind: Dylan as DJ
1.45 PM-3.15 PM
Panel - Dylan and the Americas:
Jim O.Brien: 'Senor Senor' - Bob Dylan and the Myths and Legends of Spanish America
Neal Ashley Conrad thing: Resistance & Ghosts - the quest for possibility among the oridinary
Freddy C. Dominguez: Bob Dylan in Time: Thoughts on the Historigraphical Significance of a Song and Dance Man
3.15 PM-3.30 PM
Coffee break
3.30 PM-4.15 PM
Robert Reginio: Listening to the Other: Bob Dylan and Empathy
4.15 PM-5.00 PM
Keynotes: Rita Felski and Anne-Marie Mai: Getting it - On attunement with Joni Mitchell and Bob Dylan
The Niels Bohr Professorship "Uses of Literature. The Social Dimensions of Literature" is established on basis of grants from the Danish National Research Foundation