The Engineering and Science Summer School takes place in the beautiful and busy Odense Campus with its many green areas but at the same time close to the city.
As a student at the Engineering and Science Summer School you will find an inviting and dynamic learning environment at Campus. Rapidly growing industries are working very closely together with SDU in education, research and development. Growth is especially strong in robotics and Odense is known as the robotics hub of Denmark with more than 100 companies working in the field.
The Engineering and Science Summer School consists of a range of high quality courses divided into various subject areas. Click on the tiles below or use the right hand menu to see courses under the subject area.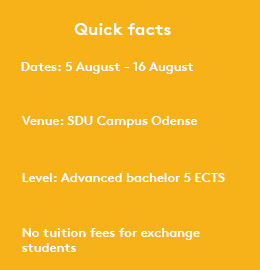 All courses are open to Danish and International full-time students, exchange students and free movers who will be working together in teams in the intensive 5 ECTS courses. SDU offers all students enrolling in the summer school accommodation service and visa service.

Aside from the courses the summer school offers a lively programme of social and cultural activities in and around the city of Odense. If you should have the opportunity to extend your stay beyond our Summer School, you will get the chance to join in on some of the festivities in the H.C. Andersen Festivals taking place in the city from Sunday the 18th.

Joining our summer school means a lot of interesting work within the chosen field during the two-week course and the opportunity to end you stay following in the footsteps of H.C. Andersen.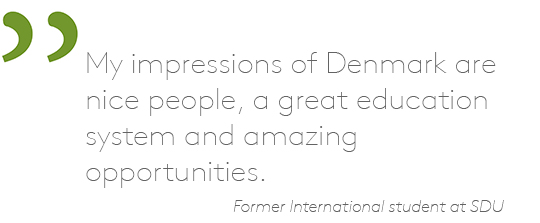 Read leaflet about the Engineering and Science Summer School