This academic profile enables you to:
design, synthesise and characterise materials with specific properties

make optimal material selections based on chemical, financial and technological criteria

develop components or devices such as sensors which use these materials

set up and implement relevant characterisation and testing methods

help to set up models for and carry out model calculations

help to integrate the devices into larger technical or chemical engineering units as well as managing their operation.
During your studies you will work with the subjects of material chemistry, chemical metallurgy, and the characterisation of solid substances.
Programme structure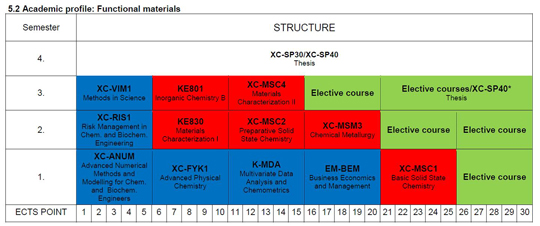 Click the overview to see a larger version.
Regardless of academic profile you will acquire a range of general competencies in numerical methods, statistics, physical chemistry, theory of science, risk assessment, and economics.
Find more information in Curriculum and course descriptions.