Structure of the MSc in Social Sciences in Comparative Public Policy and Welfare Studies
The Master programme includes four semesters over a two-year period. In the first two semesters you will enroll in mandatory courses, while in the third semester you can choose courses according to your interest. The first semester courses provides you with an overview of the development, challenges and possible solutions for public policy and welfare studies. The second semester goes more in-depth with the three basic pillars of the education, namely public administration, the welfare state and the labour markets, as well as comparative methodology and data. During the third semester you will receive more specialised training in methods, as well as in analysis of policies and politics. Furthermore, you may be able to participate in an on-going research project or have a semester abroad. During the fourth and final semester, you will write your independent Master thesis, where you can choose to focus analytically on a topic of your interest.
Illustration of progression of Master Programme:
Track-wise Progression of Masters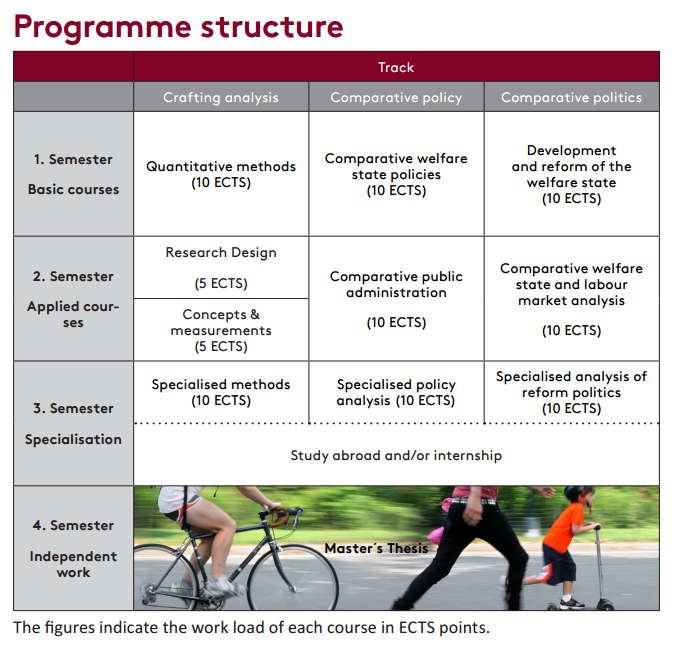 The track-wise progression of the Masters is illustrated in the figure above. The programme is organized in three tracks, which are crafting analysis, comparative policy and comparative politics. The first track, crafting analysis, focuses on research design, as well as a critical analysis of the advantages and disadvantages of different types of methodological choices. It also enables you to apply different methods and to use different sources and types of data. The second track, comparative policy, focuses on public policy and public administration, providing an overview of the state-of-the-art in the first semester and a more focused analytical focus during the second semester. The third track, comparative politics, deals with the politics of public policy and welfare, providing a broad overview of the topic in the first semester and a more in-depth analysis of selected political issues of public policy and welfare studies in the second semester. During the third semester, you will specialise further in various topics through applied research.
What does the students think about the academic content?