Chrysovalantis Marigkos, Greece
Productivity Manager, Simens Gamesa
Fanni Lengyel, Hungary
Associate Marketing Strategy Manager at The LEGO Group
During my Master's program in Brand Management and Marketing Communication I was participating the Career in Denmark program in order to get to know more about the Danish culture, as I knew that I might consider to stay in Denmark after finishing my degree. I graduated in the summer of 2016, and thanks to the program and the effort I put into getting to know and adapting to the job market I landed in an internship at the Nordic Headquarters of Nestlé. Although, I was not able to continue in a full-time position due to lack of any job openings, I believe this experience was not just extremely insightful but also helped me to move on with my job search. Afterwards, I decided to continue learning Danish and I was working part-time at a start-up in Copenhagen, while I was focused on approaching Danish employees and building my network. I went to case competitions, career fairs and tried to use these opportunities to get closer to my goal. I was always striving for a better job search strategy, for a better CV, for better cover letters, which was difficult sometimes after getting a lot of rejections. I have recently got my first full-time position at Bestseller - Jack & Jones, as Key Account Supporter for the German market. Finding my first job after finishing my studies has not been an easy journey, but a very exciting one, during which I clarified my current goals, I built network, I learned patience and persistence, and I believe all these will be beneficial for my future career.
----------------------------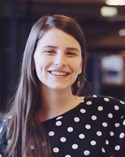 Irina Antonescu, Romania
PhD Fellow SDU and Founding board member of PAUSD
As a fresh graduate from my Master's degree in Nanobioscience and the Career in Denmark programme at SDU, my most difficult challenge was to... choose between all the career opportunities that laid in front of me! It may have been hard-work, or luck, inspiration, the right mentors or the right timing, or maybe a mash-up of all these, but it's been such a comforting experience to realise that the skills learned through my education made me truly valuable for the Danish Labour market. I'm extremely grateful for the unconditional guidance I've received from our Career in Denmark mentors all along the way.
----------------------------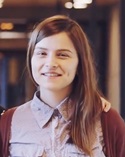 Oana Antonescu, Romania
PhD Fellow in Protein Science at University of Copenhagen
The great advice and competences I acquired from the Career in Denmark family made my way towards the Danish job market not just bearable, but actually enjoyable! I learned to network, polish my online CV and write catchy job applications. I even got a personal mentor from Novo Nordisk who boosted my confidence and helped me prepare for an interview with the company. My first job after my masters was at Novo Nordisk, in research.