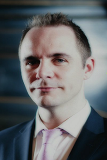 Kasper Koch Konradsen
MSc in Economics and Business Administration - Global Logistics and Supply Chain Management

The studies have strengthened my ability to handle more tasks and larger projects, and to prioritise and plan my working day. Every day, I draw on what I learned about business management and business understanding.
I'm enrolled in a graduate programme at our main office in Danske Bank, where we implement cash management solutions for large business customers. My primary tasks right now is to set up a project office, and also formalising the start up of the project, allocation to teams, resources, etc.
The biggest obstacle for getting a job after graduating is without a doubt lack of experience. I would have liked to have had the benefit of more experience with relevant student jobs. However, I had extensive experience from stays abroad during the studies, which I think was important.