Currently enjoying life as a newly graduate from SDU – Career opportunities in Brand Management & Marketing Communication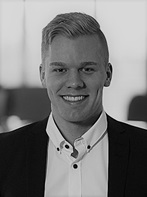 By Jonas Thorkild Voss

Why this Master?
My Master's program focused on marketing, communication and branding rather than international business, which would have been the obvious way to go considering the organizational and strategic focus in my bachelor. However, during the bachelor, my interest for the topics and subjects of a more communicational oriented nature had grown strong and so I chose to go this way based on pure interest and passion.
My time as a student on SDU
I have very much enjoyed my 5 years as a student on SDU Odense. My fellow students, teachers, the facilities and finally the social environment surrounding the university and the city of Odense have all been top notch. I have had a great time with a mixture of both social and fun parts but also serious and very hard parts, exams etc. I do not have many things that I regret, however, one thing that I might have done differently looking back would be to take at least one semester in some form of an internship, as I often felt that some practical experience could have been nice and useful in getting a better understanding of the theoretical concepts as well as in applying for a job afterwards.
Current position
Just two months after my graduation on my Master's program, I got the job as Junior Brand Manager at Merrild ApS located in Fredericia. I got the job through a traditional but very intense and focused application process. I get to work with a lot of the concepts and ideas that I learned at SDU daily, as I, together with the rest of the marketing team at Merrild ApS, work with the communicational strategies as well as the branding of the company on the market for coffee. It is exciting to see, how the knowledge you have gained throughout 5 years of studying is very relevant and applicable in the 'real' world.