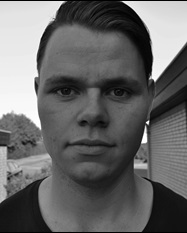 Andreas Melsen, 24
Accounting and Finance, BA degree in Business Management
Why did you choose to study Accounting and Finance?
I have always found economics-related topics interesting, so I have known for quite a while that I wanted to study a master's degree within some area of economics. Throughout the bachelor's degree, central financial problems such as risk and portfolio management and stock pricing, seemed to draw my attention the most. However, I also believed at the time (and still do) that having extensive knowledge on economic reporting and management control systems, would be particularly beneficial. Therefore, for me, the Accounting and Finance program is the perfect hybrid, since I would have been indecisive between two programs primarily focused within either area.
How do you like the study environment at the campus?
I have enjoyed the study environment at the campus quite a lot. For the first-year courses, students are required to form groups to work together on mandatory assignments. Being "forced" into study groups may seem somewhat unappealing at first for some students, but after a while those study groups will prove to be invaluable for the program considering the weekly work load. In that regard, SDU offers great facilities for both group work and individual study. Today, some of my close friends originated from such study groups.
What would you like to say to someone who is interested in studying the same Master as yours?
Students who enjoyed the theory related to corporate finance and accounting in their bachelor's degree, will without a doubt find the courses of this program appealing. The mandatory courses of the program will extensively explore relevant theory, which is presented by passionate lecturers. It should be noted, however, that the program requires a significant amount of hours every week allocated to studying in order to keep up with lectures, exercise classes, mandatory assignments, etc. Since I studied a bachelor's degree that content wise, was very broad, I do not have an extensive background in mathematics as other programs may have. Hence, a personal recommendation would be to brush up on mathematics and general economics theory before beginning the program. Note that course descriptions of the program often provide examples of literature for such exact purposes, so that the transition from the bachelor's degree to master's degree can be smooth.