At SDU we do everything in our power to distribute practical, helpful information to our students. We've carefully considered the many small bits of information an incoming International Student may want to know and compiled them in the sections below. If you can't find the information you need then it is easy to contact an appropriate member of staff through our Who helps with what? page.
Cost of living
The cost of living in Denmark is similar to that of other northern European countries. You should estimate spending between 600 and 700 euro monthly. Average monthly rent for a room in a flat is about 300 euro. You also need to consider the cost of books and other teaching materials, transport and going out. A few examples to illustrate the price level in Denmark:
1 litre of milk = 1€ 1 kilo of pasta = 1€
Beer at a pub = 4€ Meal at a restaurant = 15€
Cinema ticket = 10€ Meal at McDonald's = 7€
One euro is approx. DKK 7.5
Credit cards
Credit cards are accepted in most shops and restaurants; however, some supermarkets only accept the special Danish debit card "Dankort". Cash points for withdrawal of cash are numerous. Please be aware that your bank imposes a limit as to the amount which you can withdraw at a time.
Happy Hours
There are a lot of offers for students. Including free beer hours for students!
Loss and liability insurance
Be aware of your insurance situation. Being abroad is usually a great experience. However, no matter where you are, you can be a theft victim or cause damage to others. You are not covered by any insurance at the University.
We advise you to take out insurance to at least cover you in case of theft, fire and liability. The liability insurance is especially important in case you cause damage to something or somebody.
Student discounts
With your student card in hand, it is possible to get student discounts at a few places in town. Various fitness centres may offer discounts. Ask around. The University book shop gives 10% discount on books. As student discounts are often not listed, it is a good idea to ask whether a store or museum gives student discounts.
Tax in Denmark
If you have been accepted in the State Education Grant and Loan Scheme in Denmark or you plan to work in Denmark during your study period, there is a series of tax rules that you need to know about and by which you must abide. In Denmark, the tax and customs administration is called "SKAT", and you will find further information on their website. SKAT may take retroactive action if the rules are not properly observed. As there are limits as to how much work you are allowed to take on as a student, you should also visit this webpage from SKAT and New to Denmark's website.
Trains and student discount
The train service in Denmark is the safest and one of the best in Europe. When registered as a student. You can get a discount card for the train
service. This gives you 50% off tickets everyday except Friday and Sundays when you get 25% off. Get your "Wild Card" at www.DSB.dk
Tipping
Tip is already included in the bill, so in Denmark leaving a tip is not required or expected at restaurants, in hotels, or when taking a taxi, but of course it is always appreciated. There are no set percentages though, for instance like in the U.S. If you decide to leave a tip, you would normally just round up the total. For example if the total is DKK 152 - you could round up to DKK 160.
Emergency calls
Dial 112 (free call from pay phones)
Health insurance
All residents in Denmark are entitled to free emergency treatment, linked to your own personal CPR-number. In case of an emergency, dial 112 to contact the police, the fire brigade or the ambulance. Emergency calls from pay-phones are free of charge. For more information on how to obtain access to the Danish health care system visit: www.newtodenmark.dk.
If you become ill
International students living in Denmark for more than three months are covered by the Danish health insurance. It offers free doctor consultations and hospital treatment. You register for health insurance at the same time as registering at the Danish national register. You will receive a personal identity number and a health insurance card, which you should always bring when going to a doctor's surgery or to the hospital. Your health insurance comes into effect six weeks after you arrive in the country. You should therefore consider taking out health insurance to cover you for this initial period. EU citizens are covered from arrival when they bring along the European Health Insurance Card.
Medical treatment
When you stay in Denmark on a residence permit (i.e. you are here for at least three months), you are included in the Danish Health Insurance Scheme. However, different rules apply as to how soon after your arrival you are covered. Read more about medical treatment and how to get help.
Pharmacies
Opening hours: Monday - Thursday 09:00 17:30 Friday 09:00 19:00 Saturday 09:00 14:00.
Vaccinations
At present, no vaccinations, health certificates or the like are required when entering Denmark from another country.
The Danes are the worlds best non-native English speakers so you do not have to speak Danish to study in Denmark, but understanding the local language might enrich your stay here and will a smile to every Dane's face.
Danish is taught at several universities around the world. There are also a number of private or public organisations that offer lessons in Danish at different levels. Contact a language centre in your home country for further information. The Danish Embassies and Consulates can also refer to activities relating to Denmark in your home country.
Danish lessons
All internationals are offered Danish lessons when they arrive in Denmark. Here is a brief introduction!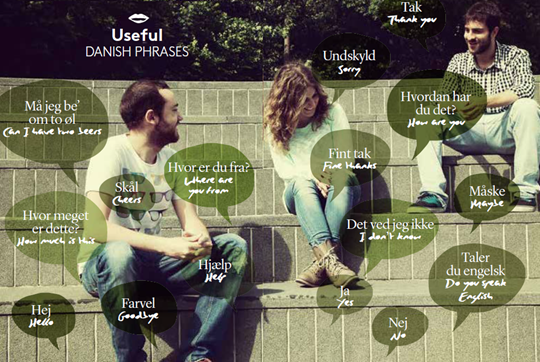 Danes have consistently came out on top of world happiness surveys since the 1970's. There are many proposed reasons, but most agree that an appreciation of the simple things in life is key to contentment.
Equality
According to the World Economic Forum 2014. Denmark is the 4th most gender- equal societies in the world. The Danish constitution assures religious freedom for all citizens, but, also emphasises that the Evangelical Lutheran Church is the Danish state church and is supported by the state. Denmark has a law on ethnic equality, which bans ethnic discrimination and states that it is illegal to treat people differently on the grounds of gender, race and religion.
Food and traditions
The Danes celebrate many holidays during the year. Some of them are religious holidays and some have cultural or historic roots. Specific traditions with regards to food, decorations and celebration are connected to most of the holidays, which are usually celebrated with friends and family. Breakfast and dinner are typically eaten at home, whereas lunch is eaten at school, work, etc. and often consists of a packed lunch. At lunch the speciality Smørrebrød (open sandwiches) is normally eaten. It consists of rye bread buttered and covered with sliced meat, cheese etc. The summer dessert Rødgrød med fløde – its name being a test in pronunciation for all non-Danes – is a dessert usually made of redcurrants, raspberries and blackcurrants. The berries are boiled until they are soft, sweetened and thickened and finally served with cream or milk.
Infrastructure
Denmark's infrastructure is well developed. The railway network is extensive, the roads are of a high standard and are relatively uncontested. The aviation system is among the most developed in the world and the airports have connections to most of the big international airports in the world.
You can fly to capitals like Amsterdam, Berlin and Stockholm in an hour, and, in less than two hours, all the way to Paris, London, Dublin and Prague, to mention a few.
Public holidays
January 1st > New Year's Day (nytårsdag). Thursday before Easter Sunday > Maundy Thursday (skærtorsdag).
Friday before Easter Sunday > Good Friday (langfredag).
Monday after Easter Sunday > Second Day of Easter (2. påskedag).
Fourth Friday after Easter > Prayer Day (Store Bededag).
40 days after Easter Sunday > Ascension Day (Kristi Himmelfartsdag).
Monday after Whitsunday > Second day of Whitsun (2. pinsedag).
June 5th > Constitution day (grundlovsdag). December 24th-26th > Christmas Eve, Christ-mas Day and Boxing Day (Juleaften, 1. og 2. juledag).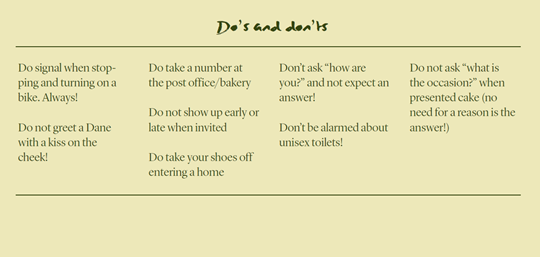 Smoking and smoking restrictions
Smoking is banned in all indoor public places (except some bars), making it illegal to smoke in virtually all enclosed and substantially enclosed public places and workplaces. Anyone who wants to smoke during study or work hours has to go outside.
Shopping
Suggested shopping facilities for daily needs (foods, etc.) are: Bilka, Brugsen, Kvickly and Føtex. Lowprice supermarkets are: Fakta, Netto, Aldi, KIWI, Lidl and Rema 1000. Department stores and supermarkets are usually open: Weekdays 09:00 - 19:00/20:00 Saturday 09:00 - 16:00
General opening hours for specialty shops are: Weekdays 10:00 - 17:30; Saturday 10:00 - 13:00
On the first Saturday of each month many shops are open until 16:00 or 17:00. Most shops are closed on Sundays. However, many kiosks and gas stations are open outside normal opening hours and they may sell quite a considerable range of groceries (milk, bread, cheese etc.).
Sport, music and leisure
Danes love sports. About three out of four children and young people and half of the adult population are engaged in sporting activities in their spare time. Denmark has the highest number of sport facilities per capita amongst the European countries.
A lot of Danes join a sports club. The most popular activities are gymnastics, football, badminton, swimming and handball. Fitness, aerobics, roller-skating and jogging are other popular activities.
Being a country surrounded by water – all places in Denmark are less than 50 kilometres from the sea – sports such as sailing, windsurfing, fishing and rowing are also popular.
Considering the size of the country, Denmark has achieved outstanding results in sports internationally. Denmark won the European Championship in Football in 1992 and in handball, the women's national team won the European Championship in 1996, the World Championship in 1997 and the Olympic Games in 1996, 2000 and 2004, and the men's national team won the European Championship in 2008.
Denmark is densely populated and the land is cultivated, so the natural resorts consist of small reservations – woods, plantations, beaches etc. It is quite common for Danes to go for a walk or ride their bikes on Sundays, perhaps bringing a "madpakke" (packed lunch) with them. Almost all Danes have a bike, many use it daily and there are special paths for cyclists in many towns.
Denmark is known for its many music festivals. During the summer there is a comprehensive and international programme of rock, folk and jazz music to choose from. The most famous festivals are the Roskilde Festival, Tinderbox, the Folk Festival in Tønder and the Copenhagen Jazz Festival. The Roskilde Festival is one of the largest and most trend-setting events on the European rock scene.
Telephone
Telephone calls to foreign countries: dial 00 + country code + subscriber's number, omitting initial 0 (when calling Italy do not omit initial 0), if any. Country codes and instructions for using the telephone can be found on the first pages of the telephone directory. The country code for Denmark is 45. If you join ESN they will give you a Danish simcard when you arrive.
Bikes, bikes and bikes!
Bicycles are easily the most common form of transport in Denmark. In most towns there are even special biking lanes! When you are interested in buying a bike you can either buy a new or a second-hand bike at one of many local bike dealers or from other students through Facebook pages.
Buses
For transportation within the city, most of the students prefer a bicycle, however you can still reach all your destinations by bus. Visit rejseplanen.dk/ to get more information concerning timetables, routes and price. Be aware that you can get a discount if you by in bulk, and that your train ticket stub allows you to use the city bus on the same day for free.
Cars
If you stay in Denmark for less than 185 days you can apply for permission to drive a foreign registered car in Denmark without paying the registration fee. Find further information about rules and regulations regarding foreign registered cars in Denmark here:
Bringing a vehicle with foreign number plates to Denmark
Infrastructure
Denmark's infrastructure is well developed. The railway network is extensive, the roads are of a high standard and are relatively uncontested. The aviation system is among the most developed in the world and the airports have connections to most of the big international airports in the world.
You can fly to capitals like Amsterdam, Berlin and Stockholm in an hour, and, in less than two hours, all the way to Paris, London, Dublin and Prague, to mention a few.
Reduced prices on bus and train tickets with a youth card
The youth card (Ungdomskortet) isavailable to all students enrolled in a higher education or secondary education including international students. You cannot, however, get a youth card during a period of leave.
The youth card acts as a monthly travel card for you to travel unlimited to and from your place of study in Denmark for a reduced price. You are also able to travel by both bus and train within your area of tariff and travel in other areas of tariffs than your own for a reduced fee.
Current prices, rules and regulations and areas of tariff can be found at ungdomskort.dk
Trains
The train service in Denmark is the safest and one of the best in Europe. If you book your tickets in advance, you can find good offers with the so-called "orange tickets". Check dsb.dk for more information.
And of course you need practical information related to studying:
Blake Brigman is from the USA. He studies Brand Management and Marketing Communication at the University of Southern Denmark.
He says Danish sounds like they're "speaking underwater!" Yet he studies it hard to insert himself into society.