When you are accepted to SDU there are some things you need to do before you arrive in Denmark. You will receive instructions along with your enrollment letter. So you know what to expect there are also instructions below.
Before you arrive
When you arrive
First of all, for many full-degree students and exchange students, when you arrive at your Campus city, you will be greeted by a Buddy. This is a current SDU student. They will give you the keys to your apartment if you decide to use the university's guaranteed accommodation. You may also receive a welcome package with some food, kitchen utensils, bed-sheets and surprises! Your Buddy can answer any specific questions you have about the town.
You'll need to get yourself a bike! No matter which of our Five campus you end up in, it's going to be a bicycling city!
Come to your orientation day to meet new friends and learn everything you need to know about your study programme and life at your campus city. You'll get an email with the dates when you're study application is accepted.
When you are registered at University, you will receive your username and password to our student self-service. It's called Blackboard. On it you can view your courses, schedule and exams. You can only access this after your orientation day.
If you haven't done so already (non-EU nationals need to apply before they arrive) you will apply for your residence permit and your CPR-number. Don't worry about this one, the university will assist you when you get here.
Go to class, pass your exams, and have fun!
Meet a buddy
Name: Peter
Country: Denmark
Study programme: Business, Language and Culture - Negot
What do you do as a buddy?
As a buddy you pick up 1 or 2 international students at the train station when they arrive in Odense, you bring them to their apartments and make sure they have a pleasant start to their stay. Furthermore you'll be placed in a buddy group, consisting of about 3 buddies, with whom you can arrange activities or just a simple dinner for the students - if you want to. All buddies are volunteers so it's completely up to yourself to decide how much time you want to invest in the buddy program.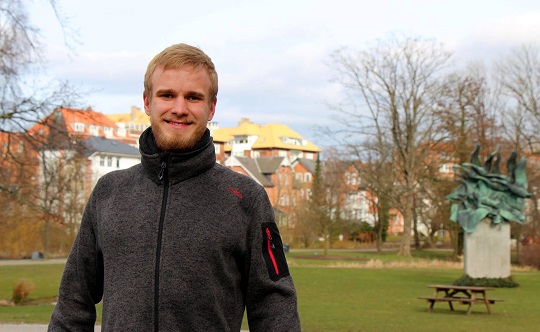 What made you want to be a buddy?
First time I went abroad myself, I arrived in Spain without knowing anyone - I just had an address to the place I was going to stay. It took me a long time getting to know the city and I realized how big a help it would have been if someone had picked me up and told me a little about the city. It's a small gesture, but it makes a great difference for students arriving. In addition to that, the international students are always very open-minded and simply just great people to hang out with.