The University of Southern Denmark generally guarantees accommodation to all international students moving to Denmark to study. If you already live in Denmark when you apply, you are last in line for accommodation.
To be guaranteed accommodation you must apply before the deadline:
September admission: May 1
February admission: November 1

You should apply for accommodation as soon as you have submitted your application to SDU, even if you are not sure you will be admitted. In case you do not get admitted, your application for accommodation will be cancelled automatically.
Apply for accommodation in your campus city
We have five academic faculties and five campuses. Each campus has its own accommodation office. Find your campus city in the menu on the right to see what is available to you, terms for application, deadlines, and other important information.
You will also find the link to the online application form.
Please note that you can only apply for accommodation in
one
city. If you get admitted in another city than where you have applied for accommodation, please contact the Odense Accommodation Office at
bolig@sdu.dk
right away, and they will change your application for you.
However, if you have applied for studies in Sønderborg, you should
always
apply directly at Kollegiernes Kontor Sønderborg, even if you have also applied for studies and accommodation in another campus city. See more in the menu on the right hand side under "Sønderborg".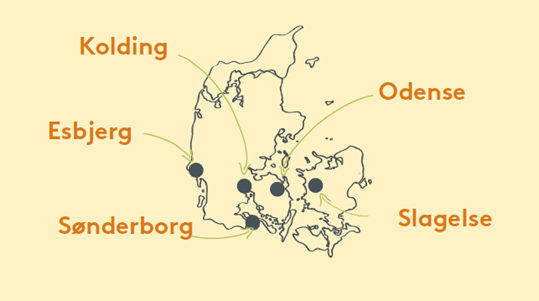 General information on renting an accommodation in Denmark
Jekaterina from Latvia studied Business, Language and Culture.
Best experience?
For me the best experience was living with my flatmates. I always lived alone and I couldn't imagine sharing a house with FIVE other people and only one bathroom! I thought: it's going to be a nightmare.
In reality, it turned out to be the exact opposite! Maybe I was lucky, but my flatmates became my real friends.
Tell us about living in Denmark
I've learned that there's no such thing as bad weather for cycling and there's no such thing as an inappropriate outfit for cycling. I've learned that rain is just rain, wind is just wind and it shouldn't affect your plans. I'm used to cycling in minus 13 degrees, or in heavy rain, still wearing a miniskirt and heels!