Guaranteed accommodation
The University of Southern Denmark generally guarantees accommodation to all international students* moving to Denmark to study. To be guaranteed accommodation you must apply before the deadline:
September admission: May 1
February admission: November 1

You should apply for accommodation as soon as you have submitted your application to SDU, even if you are not sure you will be admitted. In case you do not get admitted, your application for accommodation will be cancelled automatically.
Please note that SDU offers programmes in several cities, but you can only apply for accommodation in one city. If you get admitted in another city than where you have applied for accommodation, please contact the Accommodation Office at bolig@sdu.dk rigth away, and they will change your application for you.

You will find the application form as well as contact information and specific campus information in the menu on the right-hand side.

*An international student is a full-degree student coming to Denmark to study a degree offered in English or an exchange or guest student coming to Denmark to study. If you already live in Denmark when you apply, you are last in line for accommodation.
Typical form of accommodation
A room in a hall of residence (kollegium), price: ca. 260-400 euro per month.
A privately rented room in a house or a flat, price: ca. 250-500 euro per month.
A privately rented flat - either alone or shared with other students, prices vary considerably.
Deposit

The landlord may ask you to pay the first months rent and a deposit before you sign the contract.

The deposit acts as a guarantee for the expenses incurred during your time there. The amount is typically equivalent to 3 months rent.

Contents insurance

In Denmark you are expected to have contents insurance. If you choose not to take out insurance for your housing, you should be aware that there is no coverage for you in case of burglary or fire.

Accommodation fraud

The start of semester is unfortunately the peak season for accommodation fraudsters who are ingeniously and creatively trying to scam the property seekers with fake ads, money under the table or accommodation they do not own.

We strongly advise to use the accommodation offers that the University of Southern Denmark provides. However, if you decide to seek accommodation on your own, please keep these guidelines in mind:

Please be aware of unrealistically cheap accommodation offers in comparison to other accommodation offers in the neighborhood. Never pay money under the table in order to move up in the queue. It is illegal and you have no legal possibility to get your money back.

We strongly advise against using Western Union or other online payment services as your payment is untraceable and there is no possibility for you to get your money back.

Never pay rent or a deposit upfront before having seen the accommodation.
We have five academic faculties and five campuses. Each campus has its own accommodation office. Follow the campus pages to the right to see what is available to you.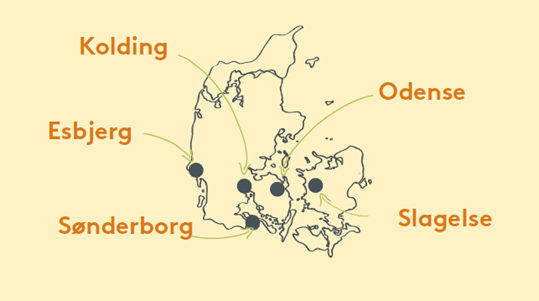 | | | | | | |
| --- | --- | --- | --- | --- | --- |
| Faculty of... | Odense | Kolding | Esbjerg | Sønderborg | Slagelse |
| Health | X | | X | | |
| Science | X | | | | |
| Engineering | X | | | X | |
| Humanities | X | X | X | X | X |
| Business and Social Science | X | X | X | X | X |
Jekaterina from Latvia studied Business, Language and Culture.
Best experience?
For me the best experience was living with my flatmates. I always lived alone and I couldn't imagine sharing a house with FIVE other people and only one bathroom! I thought: it's going to be a nightmare.
In reality, it turned out to be the exact opposite! Maybe I was lucky, but my flatmates became my real friends.
Tell us about living in Denmark
I've learned that there's no such thing as bad weather for cycling and there's no such thing as an inappropriate outfit for cycling. I've learned that rain is just rain, wind is just wind and it shouldn't affect your plans. I'm used to cycling in minus 13 degrees, or in heavy rain, still wearing a miniskirt and heels!