Academic system
Bachelor level (Undergraduate)
The bachelor level in Denmark usually corresponds to 180 ECTS credits and takes 3 years to complete. The 3 years are divided into 6 semesters which each contain 30 ECTS credits. Some bachelor level corresponds to 210 ECTS credits and therefore takes 3.5 years to complete.
Master Level (Graduate)
The master level in Denmark corresponds to 120 ECTS and takes 2 years to complete. The 2 years are divided into 4 semesters which each contain 30 ECTS credits.
Academic culture
The relationship between students and teachers in Denmark is quite informal. Both students and teachers like to consider one another equals. You are always encouraged to ask questions both in and outside of the classroom and to express your opinion on the themes discussed during the courses.
The informal atmosphere does not imply, however, that an overly relaxed attitude towards the studies is accepted. On the contrary, the independent nature of university studies in Denmark presupposes that students show initiative and take responsibility in the planning of their studies and in keeping to their own schedules. Students are expected to be able to analyse and discuss material, both in class, in group work and in the final examination. Most studies make use of both oral and written exams.
Student testimonial
Pia from Germany studies Modern Languages and Intercultural Communication
Any advice for new/prospective students?
Check the curriculum carefully and check financial aid in both your home country and Denmark. Invest time in finding the best programme for yourself. Be open and enjoy every moment – studying in Denmark is the perfect combination of high life quality and high educational standards.
Impressions of the University of Southern Denmark?
Our campus in Sønderborg is spectacular: The architecture is amazingly modern, simple and comfortable at the same time. Classes are taught in small groups and are generally of very high quality. Moreover, the staff are generally friendly and helpful and the environment both very active and calm.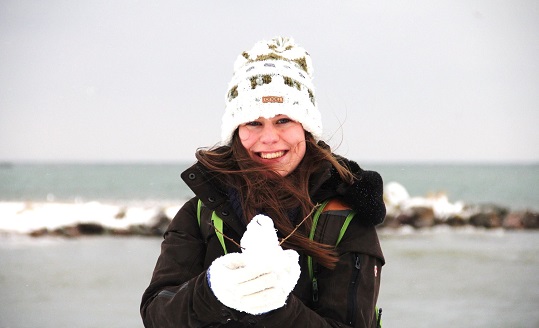 How many hours of classes do you have a week?
I am in the sixth semester and just finished my bachelor project. While we wrote the project, we had three courses, which is equivalent to approx. 6 hours per week.
Do you get enough help from teachers?
Definitely! If something's unclear you can just approach your teachers personally or contact them via mail and you'll get help immediately.
What are the Danes like?
Danes are open-minded, flexible, laid-back and kind. The moment you make a friend in Denmark, you know you have a friend for life.