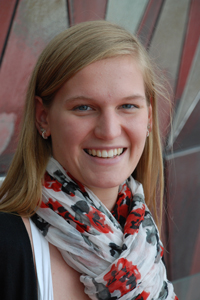 'I was looking for an international engineering programme and found Mechatronics – and I have not regretted my choice,' says Marta Puton. Marta is originally from Poland but has lived in Denmark for six years.
She has always loved maths and there was no doubt in her mind that she was to become an engineer.
'When I first started at Mechatronics everything was a bit confusing, but gradually, as I gained an insight into the courses, it all made sense; and now I am very enthusiastic about mathematical modelling', says Marta and continues:
'Most of my classmates are boys, which suits me fine. Several of them have other experiences or are skilled craftsmen, so they have taught me some of the practical things while I, in return, have been able to help them with the theoretical part.'
A cosy place
Mechatronics is taught at Campus Alsion in Sønderborg, where Marta, by now, feels very much at home.
'Alsion is a fantastic place to study, because it has a really good atmosphere: Cosy and with a lot of nice and friendly people. Both fellow students and teachers are always willing to help if you have any problem'.
'I love the international environment and believe that it is really important to be good at communicating your knowledge in English – and that is something I practice every day'.
Great freedom of choice
Marta wants to specialise in Dynamic Mechatronic Systems (mathematical modelling) and work in that area after graduation:
'I have really appreciated that we were able to choose our academic profile already on the fourth semester in order to prepare for the specialisations at the master programme. That has only confirmed that I made the right choice coming here'.
'I believe that the master degree offers a range of career opportunities in different industries. Personally I would like to work with acoustics, light, sound insulation or something in that area'.