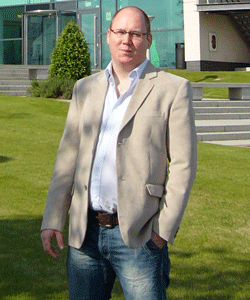 27-year old Mikael has worked at Arla Foods in England for three years, but already as a student he carried out his internship and his final project for the company. Now he is a project manager and part of large strategic projects.

– I have recently completed an expansion of the existing dairy and now I am part of a project of building the world's largest dairy which is to be placed northwest of London. It will be completed by the end of 2012 and has a budget of approx. 150 million British pounds, says Mikael, who is responsible for the 4.5 million.

Improving procedures and managing the processes
As project manager he must make sure that procedures and processes are in accordance with the other dairies in order to keep the economies of scale.

– I also spend a lot of time talking to the employees about the details of how they do their job. This knowledge is documented by me and my team and we then try to locate areas where things could be done smarter. Following, we draw up an action plan where we clarify how to achieve an improved result, says Mikael and exemplifies:

– Recently we discovered that every dairy spend a lot of unnecessary time on the management and reporting of raw material – and here we consider smarter ways of doing it in the future, allowing us to make better use of our human resources.

Creates value and makes decisions
– The best part of the job is the freedom I have to make decisions. As long as I create value for Arla and can document that my way is the best way, no one questions my work. This gives me a huge responsibility as well as a lot of freedom. And to me that is exciting!
Mikael appreciate that as a GMM engineer he is qualified to handle the professional as well as the cultural challenges:

– With this degree I have acquired a cultural understanding which I use a lot. For example, in Denmark we are very direct in our criticism, but that wouldn't work in England because you would offend people. Thus it is important to express yourself in a way that do not offend people but which still gets the message across.
Facts
To get a bachelor of engineering degree in GMM you study for 3.5 years. Graduates are qualified for jobs in management, globalisation, product design and development, and global supply.
The semesters are divided into four main themes:
- Supply chain management
- Business management and economic assessments
- Cultural understanding and international aspects
- Personal development

In the sixth semester you carry out an internship at a company in Denmark or abroad and the last semester is dedicated to your final project.