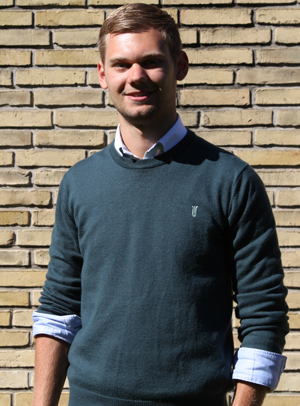 "I have chosen Global Management and Manufacturing (GMM) because it is an academic all-round programme, which unites the technical aspects with business development. Among other things, we learn about supply chain management, international marketing, accounting, materials and processes. Together with the international aspects, it gives some skills which can be used in almost any company," says 23-year-old Martin Jacques Lauritsen.

Evening studies in Estonia
As a GMM student, it is custom to spend a semester abroad, and Martin chose to study at Tallinn University of Technology in Estonia.

"I deliberately chose an atypical place, because I wanted to test my prejudices – and it was extremely exciting. In academic terms, I had to get used to lectures taking place from 6-10pm. Which is due to the fact that both students and lecturers have full-time jobs besides the university," he says.

"The best part was to stand on my own feet in a different culture, where I had to find out everything myself. Simultaneously, I got many new friends among the international students."

Internship at Tempur
Martin spent his 6th semester as an intern at the American-owned company, Tempur-Sealy – the world's largest mattress manufacturer. During his stay, he especially appreciated being part of a dynamic company-culture and using his knowledge to make a difference in the real world.

"I was in the production department in Funen, where I had to design new pallets. I learned a great deal about the complexity of real issues compared to those in the textbooks. I ended up reducing the usage of pallets from 20 to 5 different kinds in a more suitable material."

Career in Denmark or abroad
The collaboration went so well that Martin now writes his master's thesis for Tempur's supply chain department in Aarup, where he also has hopes of being employed when he finishes his studies.

"It is a very broad function, where I participated in collecting forecasts at the stores in Europe and helped develop a new shipping label to be used on all products throughout the chain. It is an incredible, exciting and challenging task," says Martin who is open to a career in Denmark as well as abroad.
Martin Jacques Lauritsen