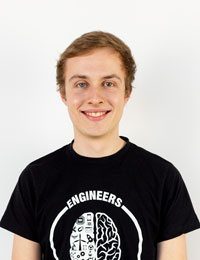 My name is Ralf and I am 20 years old. I am a 2rd semester Electronics student at SDU in Sønderborg.
I met some students from SDU at an education event in Latvia and they introduced me to this program. I chose to study Electronics because I am interested in newest technologies and I like to build something by my own.
The best part of the study programme and the study environment in Sønderborg
The best part of this education is to be in the lab and make your theoretical knowledge into something that works in real life. I really like that we have access to the labs and we can use the modern equipment whenever we need. The difference between other universities is that here we have quite a lot of practical lessons.
I appreciate that the teachers really want us learn something new and they try hard to do their best. Also a nice thing is that studies are free of charge.
The study environment is calm and welcoming. As the campus is not that big in Sønderborg almost all the students know each other and everybody is friendly and open minded. I think that the International environment helps everybody to feel free and therefore makes a comfortable and friendly atmosphere.
Sønderborg and connections to the companies in the area
We have an awesome campus with fresh equipment. Everybody is friendly and will help you if needed. The teachers are very smart and passionate about what they are doing. The campus and the town are quite small but that does not mean that night life is boring. There is always something to do in Sønderborg.
A few times a year companies come to meet students because obviously we are going to be the new engineers which they need but they also want to meet us and show factories and products that they are making to rise our interest about engineering.