Commencement of Studies
The Chiropractor programme commences in the months of September and February. The introductory phase offers a wealth of practical and social activities, allowing you to quickly feel part of the chiropractic environment during your education. For example, there is a practical introduction to the city and the University, so you can find your way around. The social tutors provide a range of exciting events, which, among other things, include festivals, introduction to student associations, introductions to your studies with study mentors and much more. Throughout the first semester you'll be part of a study group on 7-10 students. Each study group is assigned a professional tutor, which is an older chiropractic student who acts as mentor and supervisor. During the first month, you'll need to complete a minor scientific task together with your study group.
The teaching during your chiropractor studies
The chiropractor studies are based at the Institute of Sports Science and Clinical Biomechanics. This is where the research unit for Clinical Biomechanics is found, which provides education to many of the vocation-oriented subjects, and many of the university's staff chiropractors are also here. Teaching takes place on Campus and in the clinic building at the Odense University Hospital in Winsløwparken. The training takes place in such a way that a large portion of your knowledge gets acquired through self-study, supported by a series of lectures, group lessons, group work and e-learning.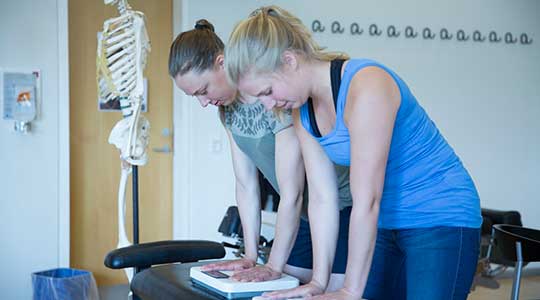 In order to stimulate and motivate the theoretical elements lab exercises, skills training and clinic internships have been added. During the skills training you'll learn about all the elements of the chiropractor profession, and the teaching is based on modern IT-based principles. You'll train with your fellow students, make use of video podcasts and access the skill laboratories' modern IT facilities. You will, among many other things, be able to:
Perform a thorough examination of the musculoskeletal system
Demonstrate diagnostic skills in relation to musculoskeletal disorders
Perform manual/chiropractic treatment
Demonstrate an in-depth knowledge of normal musculoskeletal functioning
Communicate with patients and other healthcare professionals
Please be aware of the mandatory requirements to be properly dressed during skills training – read more here.
During the clinic internship at a private practising chiropractor a logbook is filled out in which the tasks you should have solved and which skills you should have acquired are described. For example, you need to analyse patients' experiences when meeting the healthcare system.
Lively study environment
The University of Odense has a lively study environment and a pleasant social scene with a campus café, student bookstore, quiet reading rooms, several university cafeterias, the University Library and much more. The Association of Nordic Chiropractor Students regularly arrange professional and social events, and you can be a part of the educational and well attended palpation nights (palpation = feel with your hands and fingers). The Campus in Odense also offers a varied student life, with plenty of opportunities for social and professional experiences. There's, for example, a sports club, a movie club, a student congregation, political party forums, an Association of Nordic Youth, the Friday Bar, a European Student Network, just to name a few.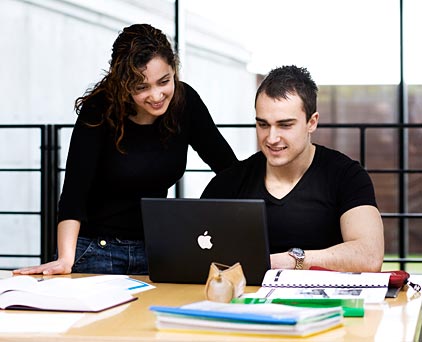 Nordic environment
The University of Southern Denmark is the only academic institution in the Nordic region with a Master's degree in Clinical Biomechanics (Chiropractic). About two-thirds of the students come from Denmark, while the remainder come from the other Nordic countries. The Clinical Biomechanics qualification in Odense has full international recognition.
Read more about the chiropractor programme structure and contents.