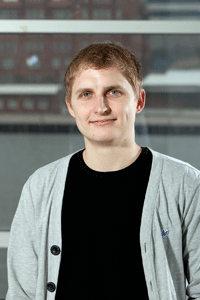 Landing a job at Siemens Windpower would be a dream come true for a lot of people – and 24-year-old Bjarke did compete with 1500 other candidates before he and 11 other applications were able to sign the employment contract.
The job is a Graduate course which means that for the next two years Bjarke will work in three different departments – one of which is abroad.

'It is really exciting and I am looking forward to start', says Bjarke Koch a few days before his first day at work.

Top marks for 3D printers and open source
The master thesis on Open Source Hardware – inspired by a 3D printer they had built during their master studies – was written together with two fellow students:

'We spent a lot of time on this project and it was really great to concentrate on a subject of our own choice', says Bjarke, who throughout his studies has appreciated the opportunity to combine theoretical knowledge with practical experiences from project work.

'All of our semester projects have been really interesting, and especially Expert in Teams, where we cooperated across different study programmes. I was the project manager of my team and we built an autonomous sailboat', says Bjarke and continues:

'I learned a lot about general management, project management and cooperation. It is amazing how much you can evolve in four months – on a professional as well as on a personal level.'

Felt at home in Sønderborg
Bjarke has spent a lot of his student life on social and academic activities. Among other things, he has been a member of the Academic Study Board.

'I have always felt at ease at Alsion. I like the fact that it is a smaller campus where you can have a close relationship with the other students and the teachers. You always help each other and I think that is a big part of a good study environment'.
Engineering, Innovation and Business is a three year bachelor programme. The first year you will work with:
Creativity
Innovation
Business
The last two years you will work with:
Electronics, software and hardware
Mechatronics
Management
Graduates are qualified for the two-year master programme.