Is your company interested in being first in line when it comes to spotting qualified workers and future employees?
As a business partner we can offer you a number of additional services to help you bring your business closer to the students and study environments at SDU.
The purpose of the collaboration is to make the students aware of your company as a possible career path, as well as inspire and give a realistic insight into the study- and/or career-relevant areas you are dealing with.
What's special about being a business partner
A business partnership offers your business the following, among other things:
A fixed contact at SDU
Sparring with a strong strategic focus on your employer branding and visibility to relevant target groups
Insight into activities and opportunities at SDU that are relevant for your business
Access to SDU Partner Network. An exclusive network for SDU's business partners.
A business partnership is a collaboration, where we find the right opportunities and solutions through ongoing dialogue and experience.
A partnership may be relevant for your company if you are interested in visibility and the support of professional standards across multiple professional profiles at SDU.
Current SDU business partners: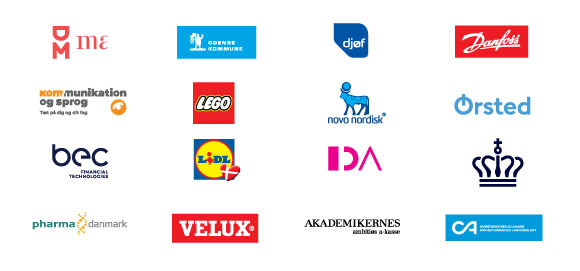 Contact us
If you have any questions to the SDU business partnership you are welcome to contact us; mail or 65 50 96 90