Professor Jørgen Thomsen, Institute of Forensic Medicine, Denmark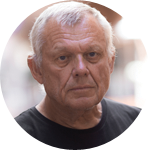 Winner of the AAFS Humanitarian and Human Rights Resource Center's Clyde Snow Award
Professor Jørgen Thomsen was presented the award on Wednesday, February 20, 2019 during the AAFS Annual Business Meeting.
Link to AAFS
Winner of the IAFS Human Rights Award 2017
Prof. Thomsen has had a long and distinguished career in Denmark as its leading forensic pathologist. In the early years, he worked with Amnesty International and essentially defined how forensic pathology could help support human rights in fragile states. Prof. Thomsen has published important contributions in this domain, most recently on the issue of chemical weapons in the Gaza Strip.
Prof. Thomsen has also made significant contributions to the global forensic community as part of the Forensic Advisory Board of the International Committee of the Red Cross. He has also worked on the clinical forensic medicine aspects of asylum seekers in Europe.
Link to IAFS